Ladysmith's Dudu Mazibuko
Keeping Up With Dudu Mazibuko
Rachel Thomas recently chatted to Mayor of uThukela District, Dudu Mazibuko about puting her community first, her travels and her passion for handbags and heels!
A chauffeur-driven white Fortuna pulls up outside the entrance of the restaurant. A female bodyguard opens the passenger door and out steps the well-heeled Mayor of uThukela District, Dudu Mazibuko. As we compliment her matching bag, our funky Mayor simply replies, "Well, I have to keep up with the Kardashians!"
Serving as District Mayor of uThukela which consists of Ladysmith, Estcourt, Winterton, Bergville and surrounding areas, Dudu remains completely in touch with her community. Living with and caring for her mother in Ezakheni, Dudu often has people coming to see her at home to talk to her about issues within the district. "It makes sense for me to stay within my community so I also live and experience the problems and can address them accordingly. I like trying to solve people's problems, I'm a people person – my cell phone is always on for people to contact me!"
Inaugurated as the first black, female District Mayor for uThukela, Dudu beams with pride. "It is such an honour. I will always remember when I was a little girl my teacher saying to me, you are doing so well one day you will be a judge. Well, I went on to become a teacher just like her and now of course today I am Mayor – maybe it was a different style of robes she envisaged me wearing."
The start of Dudu's career began in Bergville, teaching English as a second language to high school students, the ones she calls 'the naughty ones'. Teaching extra classes after hours as well as on weekends was the norm for Dudu. Her priority was always her students, making sure they achieved top grades. She recalls, "In class they once asked me, 'Miss, it's Valentine's Day and it's a Saturday, don't you have a boyfriend?' I would reply no, you are my priority and anything else can wait. I have the same attitude today. Believe me, not all politicians are dishonest, some work very hard."
As District Mayor, she deals with issues of water and sanitation, to name a few, on a daily basis. "People must know that we as politicians cannot work miracles but we do try! There are many areas we as a country and as a community need to tackle, such as teenage pregnancy. However, people must also change their mindsets and take responsibility for their lives. In my role, myself and my colleagues are always learning and following the example of other countries. After our trips, we arrive back home excited with hope for our country's future." 
After being elected as Mayor of Ladysmith, she undertook a programme based in America for newly-elected African leaders, the first of her many informative excursions. On her second visit to the US in 2010, Dudu, with a delegation of representatives from Ladysmith, visited Hattiesburg for a cultural, business and social exchange where Ladysmith was invited to become their 'sister city'. Having spent time in Australia, she brought back knowledge on how to fight natural disasters and is currently setting up a programme where volunteers will be trained within the district to enable them to help fight natural disasters caused by elements such as wind, fire and rain.
Her most recent trip to Israel was certainly an eye-opener. "The Premier selected three districts where agriculture needed to be revived. UThukela was one of those districts. We went on a programme set deep in the rural areas of Israel to learn from their kibbutz (agricultural communities).  Here, everyone's attitude was positive. If they had a job, any job, they were happy. Now, with their guidance, learning from their methods, we hope to have our agricultural villages back to the way they used to be – thriving. Each trip we go on has a purpose. On a personal level, as a devout Christian, this trip, where I was blessed enough to see the River Jordan, brought me closer to God."
For the little time that Dudu spends alone, with no bodyguard or driver listening to her every telephone conversation, knowing every meal that passes her lips or every friend she may visit – how does she like to spend her time? Shopping! "Take me to Jo'Burg or Cape Town and I definitely know how to treat myself. A little bit of Nine West and maybe a quick peak in Jimmy Choo." It definitely seems that handbags and heels are Dudu's best friends! When it comes to looking after the district of uThukela, she is certainly keeping up with the Capetonians and Durbanites, and on a personal level, in our eyes, she is definitely keeping up with the Kardashians!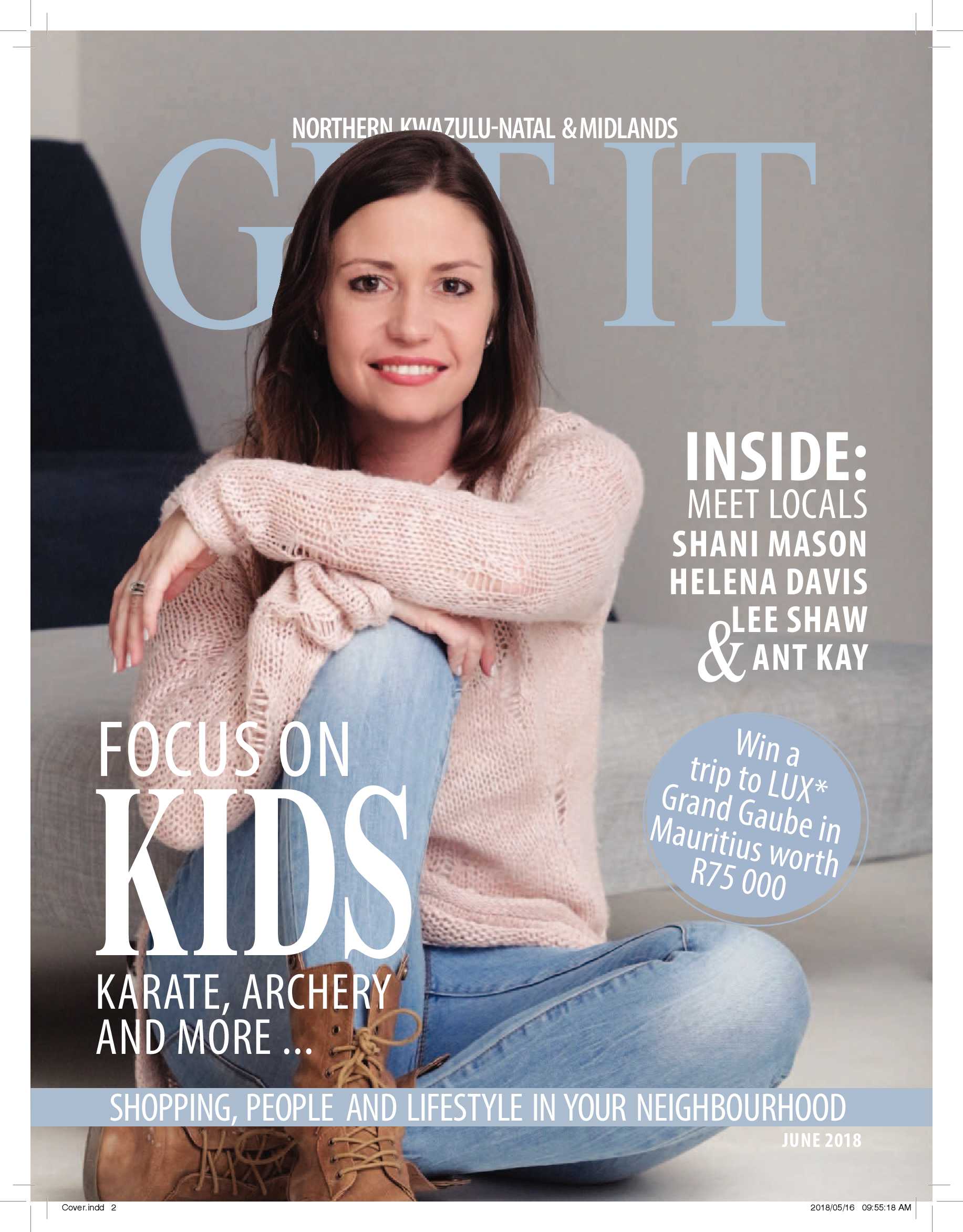 You could win a Cadbury Dairy Milk hamper!
Who doesn't love Peter Rabbit? Who doesn't love Cadbury Dairy Milk? Combine the two … and you've got our favourite Easter treat ever!
Win with Toeka se Mieliepap
Enjoy a healthy spin on a loved staple
Win a tipsy bar tending course
Stand a chance of winning an amazing full set of SVR Sun Secure
Summer days + total protection = safe fun in the sun
Stand a chance of winning an amazing voucher with Battery Centre
Top five battery myths debunked
Win your copy of 'Gister se oues'
Dance to the old tunes
Win with Royco
Enter this amazing competition to stand a chance of winning a handy Royco hamper
is a national brand of premium free magazines available in centres across the country.
to see other Get It magazines in the network.