The sound of my soul
"The piano is the only thing in this world I feel I can control. It absorbs my emotions, it never judges me and it's constant." Newcastle's Lia van Zyl found herself far from home in an unfamiliar province, but love forced her to break out of her comfort zone and change her life forever.
"I was born and raised in the Cape and I studied music therapy. My studies required me to go to a province I've never been to do my practical. For some reason, I ended up in Vryheid. I never really knew how Vryheid would change my life. Until the day I met Thinus. It was a regular love story and when I met him, I knew things would never be the same for me. I was always going to go back home, but love kept me here, and even if I could go back and change things, I wouldn't change a thing."
After the couple got married, Thinus' work took them to Newcastle, where they decided to settle. "At first I gave music lessons to children and a few adults. I've always had a passion for music.
When I was eight years old, I accompanied a friend of mine to her music class. While I was there, I played a few notes on the piano and the music teacher told me she could tell that I have talent. She phoned my grandmother and encouraged her to send me for lessons. That's where my journey with music really began. So when I arrived in Newcastle, I decided to keep myself busy teaching. Music is so beautiful; I feel it's not something I want to keep to myself, I want to share it with as many people as I can."
As time went by, she yearned for something more. After school, she briefly worked at a company that specialised in polygraph investigation. "I found it fascinating and I really enjoyed my time there."

Religion is very important to Lia. "I spend a lot of time in prayer, asking for guidance and direction. I knew that there was something more that I needed to do, but I just didn't know what. It seemed that doors were opening, but then just shutting again. And then I read an article that said 'blom waar jy geplant is' and in November the door I feel I was meant to go through opened. I applied for a job working with polygraphs again and it just made sense to me. So far, I'm happier than ever. I can learn and grow in a field I think I was made for."
But when Lia is asked if she fears that she will lose touch with her first passion, she immediately answers, "My piano will always be there. It's in my study, so when I work and I feel strained or even very happy, I swing the chair around and sing with my fingers on the keys of the piano. I still give lessons to a selected few. I will always have a passion for teaching music and I feel you are never too old to learn how to play an instrument. As for the little ones; everything they learn is the first time they are learning it.
I love the look of pride they have when they accomplish something. It's always a pleasure to work with them. That's why I think I will never completely quit teaching."
The piano, violin and flute is not the only talent this Newcastle woman has, she also enjoys sketching. "I enjoy sketching with charcoal and pastels. My favourite at the moment is sketching dancers, but I don't sketch regularly."

She has none of her sketches framed and up on her walls at home. "I think it's because I am my own worst critic. I will always see flaws in my own sketches and it would drive me nuts looking at them every day."
For now, the Van Zyl family is happy in Newcastle. "Thinus has a lot of family in the Cape and all my friends and family live there. We make a point to visit them once a year and it's always a special occasion. I always look forward to spending time with my grandmother. She inspires me, she is a wonderful woman and very dear to me."
Weekends, when they have time together, they enjoy spending it on the edge of a dam. "I pretend not to like fishing. Thinus is an avid bass fisherman, but in reality I really enjoy it. I think it's not so much the fishing, just spending that quality time with my husband is fantastic. We also visit my in-laws in Utrecht often. It's such a quaint little town, so peaceful."
Lia feels her life is complete, spending her days doing what she loves, coming home and pouring her soul into her music, spending time with their two dachshunds, Willem and Patrys, and when the day is done, sharing her experiences and a few laughs with the man of her dreams.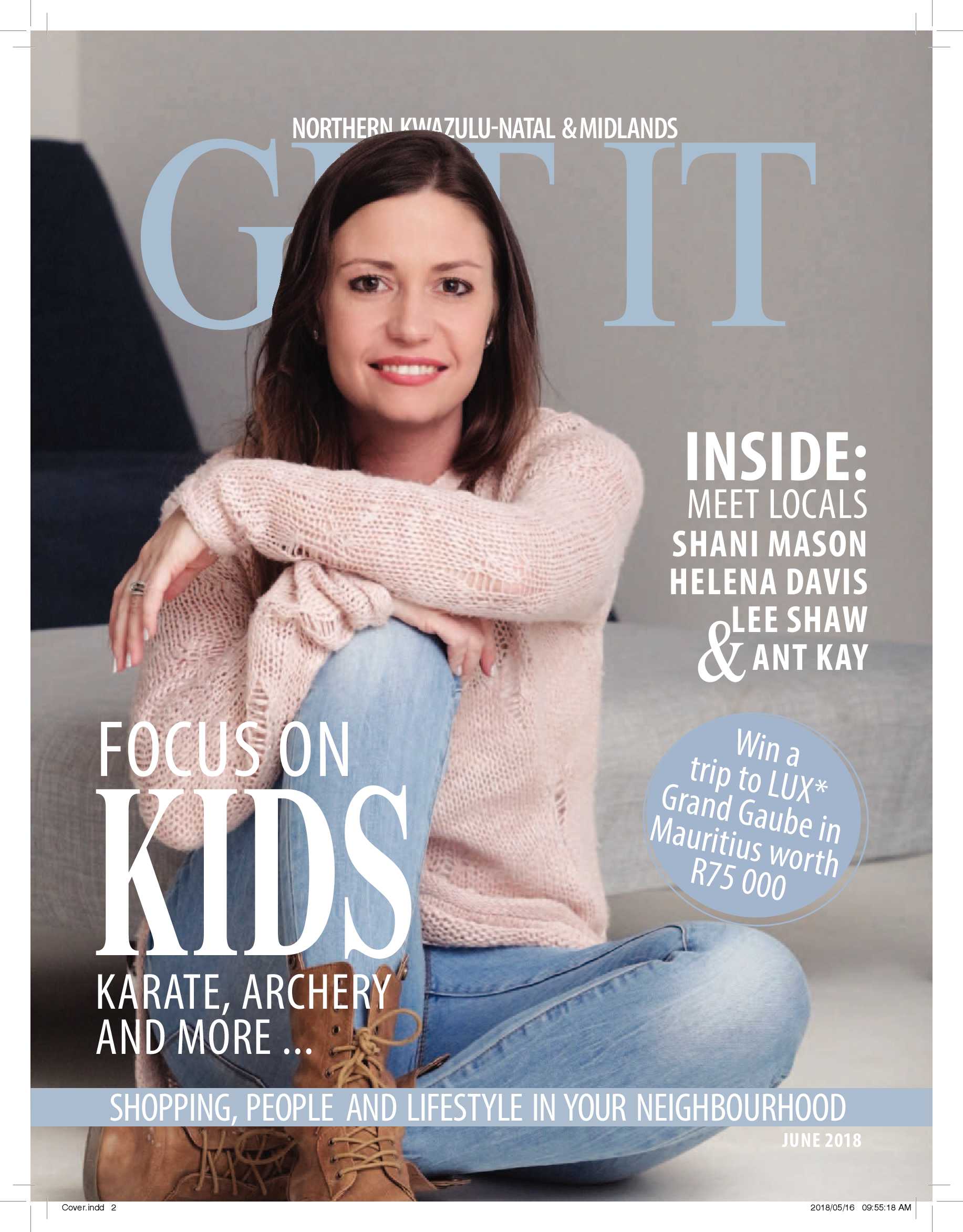 You could win a Cadbury Dairy Milk hamper!
Who doesn't love Peter Rabbit? Who doesn't love Cadbury Dairy Milk? Combine the two … and you've got our favourite Easter treat ever!
Win with Toeka se Mieliepap
Enjoy a healthy spin on a loved staple
Win a tipsy bar tending course
Stand a chance of winning an amazing full set of SVR Sun Secure
Summer days + total protection = safe fun in the sun
Stand a chance of winning an amazing voucher with Battery Centre
Top five battery myths debunked
Win your copy of 'Gister se oues'
Dance to the old tunes
Win with Royco
Enter this amazing competition to stand a chance of winning a handy Royco hamper
is a national brand of premium free magazines available in centres across the country.
to see other Get It magazines in the network.