Mother of hounds
Laverne Layland loves her dogs. She might not be a mother to human children, but she is an excellent mother to her five Weimaraners. Her dogs are not your average purebreds, they come from the best bloodlines in the world. And four of them have the title CH in front of their name, meaning South African Show Champion. The fifth is a puppy and she is working hard with her pup, winning titles at championships and he is well on the way to getting the sought after title of CH in front of his name. All her dogs are show dogs and while dog shows might not be something you hear of every day, it is very much part of her world. "It's not hugely popular in South Africa compared to Europe. At a well-attended dog show, there might be 800 to 1000 dogs participating. But there is definitely a place for it in our society. And the more people get exposed to it, the more interest there will be in dog shows."
She has been involved in dog shows for the past four years. Before she settled down and focused on raising champion dogs, she took a detour to explore the world. "After completing my studies, I set off for the United Kingdom to study art history and from there I worked and did a lot of travelling." She stayed for a decade before she received devastating news. "My father fell ill and I came back to South Africa to be with him. After his passing, I just never returned. I do miss the UK sometimes, the art and books. But I love South Africa, the weather, people and of course horses. We have so much space and freedom here."
My family always had Weimaraners and when I came back from the UK, I got one
She started teaching at a few schools in the Glencoe/Dundee area soon after she came back, before settling at Sarel Cilliers High School. Laverne believes it is important for a teacher to have an interest outside of school. "My family always had Weimaraners and when I came back from the UK, I got one. But he was not registered and I really wanted to take part in competitions. Weimaraners are gun dogs that were bred by German nobility in the early 19th century. They were bred as hunting dogs and companions. The earlier Weimaraners were much bigger and they were used to hunt deer, bear and boar. But as the larger game populations thinned out, they introduced Pointer to the breed to make them smaller. The dogs were then used to hunt smaller game like birds and rabbits. I think it's important for a dog of any breed to fulfil its purpose."
She bought her first registered dogs from England and Holland, and there is a very specific reason for this. "The gene pool in South Africa is not large, and in order to keep the bloodline strong and pure, I felt it was necessary to import them. All my dogs come from reputable bloodlines. Their ancestors are champions as show and hunt dogs."
All her dogs stay with her at her home in Dundee. She keeps them in top shape, they get daily exercise and an abundance of love. "A Weimaraner is not a dog you can leave outside. They are companions and always crave your affection. We go for jogs at the airfield or they will go for a swim in some of my friend's farm dams. Sometimes I take them to school to run with the rugby boys. It's great for both the boys and the dogs, and it also teaches the boys that dogs should not just be kept for guarding purposes."
She plans on becoming a dog show judge in the future. "It's a tough job, but it really broadens your horizons, getting to know different breeds and what to look for in judging them, plus you get to travel internationally. It would be an amazing opportunity."
The screening process is quite stringent. My dogs go either to show homes, which I prefer, or pet homes. And a detailed contract has to be signed stipulating how the dog will be cared for
She is not a full-time breeder, but when one of her Weimaraners has puppies, they are prize-winning pups. "Last year one of my pups won best SA bred Weimaraner and another one of Lincoln's pups was photographed in a leading home appliance and décor store catalogue."
But if you think you are just going to hand Laverne a cheque and take a puppy, you would be wrong. "The screening process is quite stringent. My dogs go either to show homes, which I prefer, or pet homes. And a detailed contract has to be signed stipulating how the dog will be cared for."
Her passion for her dogs has opened up another field of interest for her. "A while ago a friend of mine went to Australia for a visit and asked me what he could bring back for me. I saw these amazing show leads online and I phoned the factory to find out what they were made of, and it was kangaroo leather. My friend brought me back a bag of different coloured kangaroo lace. Fellow dog show enthusiast Olga Kopniak came to visit and we brainstormed the idea of making our own leads. The idea just blossomed from there. We found a remarkable artist in Newcastle who makes beads that we incorporate into the designs. And after we completed a few, I sent them out to some of the breeders in Europe that I've dealt with as a gift. From there, the orders have been pouring in. I even make African themed leather bags to store the leads in."
The hustle and bustle of city life does not appeal to her at all. She plans on living and teaching in her hometown for a long time to come. "I have a great life here and my dogs have a great life. What more could I want? I will take up judging at dog shows, maybe a bit of puppy training (which is actually training the owner more than the puppy) and working on our leads, maybe including bracelets, but Dundee will stay our home."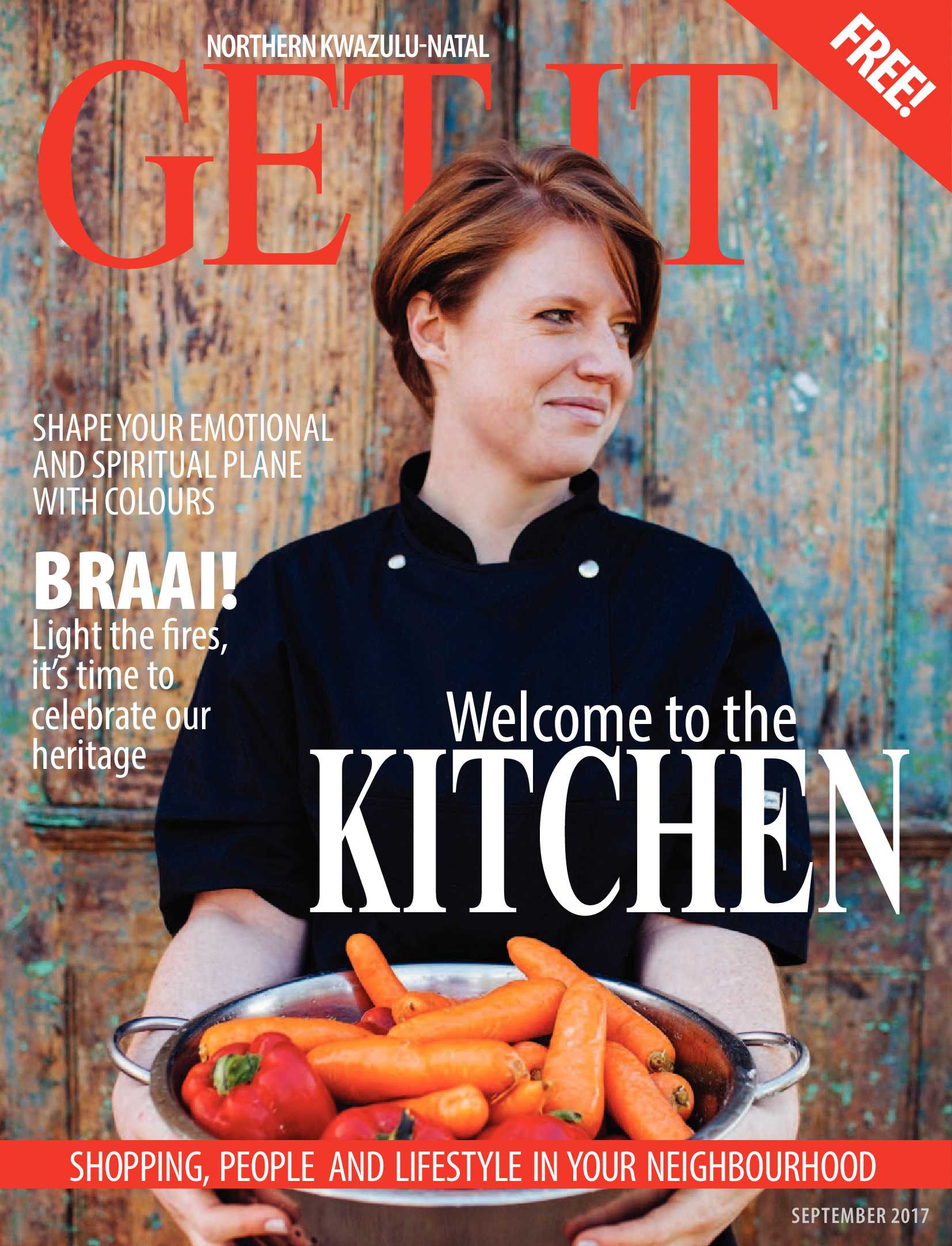 Win your copy of 'Gister se oues'
Dance to the old tunes
Win with Royco
Enter this amazing competition to stand a chance of winning a handy Royco hamper
Be a winner this Valentine's
We have a copy of every book featured to give away. All you have to do to enter is to fill in your name, the town you are from, your contact number and which book you would like to win and we will get in touch with you if you are the lucky winner
Win a party starter pack!
This summer, we're going fruity. Cruz fruity!
Get your shine on this festive season
Stand a chance of winning some amazing Georgini jewellery
For A love like this
Local author Meena Naidoo is giving away two copies of her latest book.
Delight your senses
Pintail is giving one lucky Get It reader a chance to be among the first South Africans to have their senses delighted, with a hamper of Pintail products
is a national brand of premium free magazines available in centres across the country.
to see other Get It magazines in the network.