Homegrown goodness
Vryheid's dynamic farmers wife Annebél Labuschagne used her expertise as an Occupational Therapist to weave herself into the fabric of her community. She helps mothers and babies strengthen their bond, she improves quality of life for the elderly in Vryheid, and she hosts a farmer's market where locals can show off their art, cooking and baking skills. "I'm not a born and bred Vryheid woman; I grew up in the Cape, and it was purely by chance that I ended up here. But I think you should blossom where you are. Use your skills and resources to mean something to the people around you. I'm fortunate to have the opportunities I have. If my cup runs over, why not share?"
I had to grab a map to see where Vryheid actually is
After she completed her Occupational Therapy studies, she had to do a year of Government implemented Community Service. She thought it would be convenient for her to stay in the Cape, but fate had other plans for her. And the students couldn't pick where they wanted to be placed; they were issued locations randomly. She was left with just a few options and eventually fate dealt her the magic card; Vryheid. "I had to grab a map to see where the town actually is."
She worked at Vryheid's public hospital for nearly a year before she met a young farmer who swept her off her feet. "At that stage, I had already applied for a position in Pretoria and I had to take it. Phillip and I had a long distance relationship for a year, but after that year I made the decision to move back to Vryheid because I just knew Phillip was my future husband."
The couple got married in 2009 and settled on Phillip's family farm, where they farm with cattle, crops and pine trees. "Living in Vryheid was an adjustment for me, but I made friends quickly. I worked at Inkanyiso Special School and I was really happy there. I started a pre-vocational training programme, the 'Future Finders', at the school. My role was to train and educate senior learners to be contributing members within the open labour market. Part of the programme was in-service training and a lot of the businesses in Vryheid gave the learners the opportunity to be part of their team for the training-period. I am grateful that some of them were permanently employed. My parents are passionate about education, especially working with special needs children. "Growing up, my father was a principal of a special needs school and my mother was a pre-school teacher. She worked with down syndrome children. I think I inherited their passion for special needs education.
It is wonderful for children to grow up on a farm and closely experience God's creation
It was farm life that was really challenging to adjust to. The farm is half an hour's drive from town, and I never saw myself as a farm girl. But farm life becomes a part of you. I consider myself blessed to live out there in the beauty of nature. It is wonderful for children to grow up on a farm and closely experience God's creation "
In 2012, Phillip and Annebél welcomed their son into the world and Annebél thought that she was going to be a stay-at-home mom, simply focusing all her energy on raising her son. She was wrong. "I find it hard not to be involved in my community. I then started working at the old age home, helping the elderly live to their full potential through therapy. After our daughter was born in 2014, I couldn't work there anymore, but I stayed involved by means of planning programmes for them. Now, I'm back at the old-age home again.
Being a mother herself made her realise there is a need for a support group for mothers with babies. This is how Polkadots & Daisies was born two years ago. "There are many franchises for this concept, but because of my training in child development, I decided to start my own concept." The aim of Polkadots & Daisies is to stimulate normal development through play. Mothers bring their babies out to the farm and they get the opportunity to interact with their babies doing activities in a controlled environment. "For working moms, we do a Polkadot Pop-Up-Play once a month on a Saturday, and dads can join us too. It's such a fun family outing."
Last year they held their first market day on their family farm. "I just thought, we have such a beautiful farm, we've got the space, so why not use it to give locals a platform to display their work. Not just art, but preserves, home-made delicacies and fresh produce. There is so much talent in the community. My family come to be part of the occasion, and they always bring a range of wine from the Cape for the day. And this year the market was even better."

She loves art and trips to Wakkerstroom are a real treat for her. "Wakkerstroom has such an arty feel to it. We really enjoy making the trip there. We were there during their music festival and it was a great experience; the shops and restaurants. Every restaurant offers something different. People's creativity inspires me."
She often attends courses to improve her skills and knowledge as an Occupational Therapist and is planning to attend training in "Neurodevelopmental supportive care of the preterm infant" later this year. She completed a course on Sensory Intelligence, presented by the founder and CEO, Annemarie Lombard, in 2013. She plans to become a registered Sensory Intelligence practitioner. This will give her the opportunity to give parents and teachers more knowledge, and equip them with more tools to perform with less stress and be more effective in their environments where they work with children.
She wants to do more closer to home. "There are a lot of the farm workers children staying on the farm. I would love to get involved in pre-school development of these children, which will be one of the first steps to the empowerment of a community."
She arrived in Vryheid as a complete stranger, but this town has slowly but surely wrapped its arms around her and made her part of it.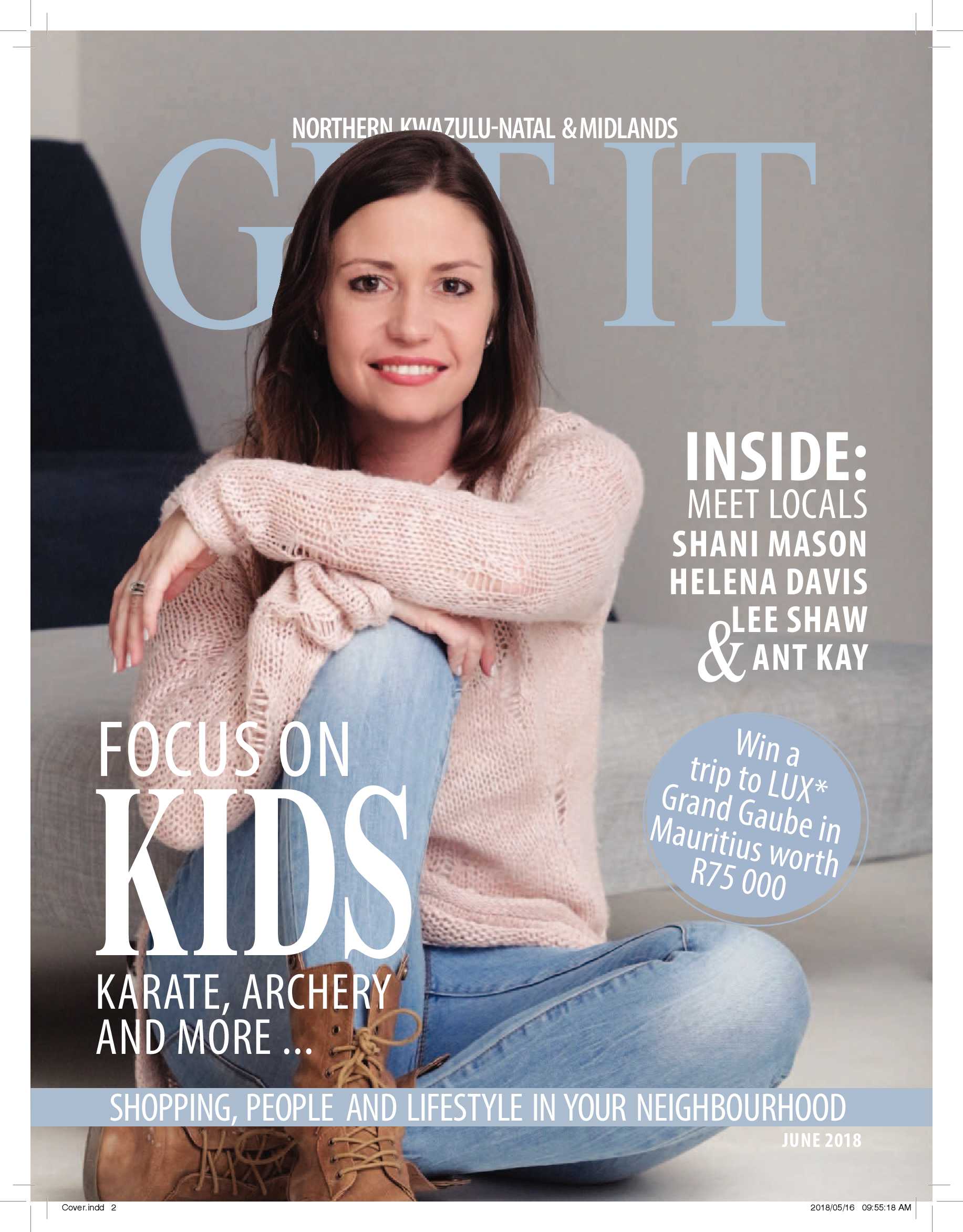 You could win a Cadbury Dairy Milk hamper!
Who doesn't love Peter Rabbit? Who doesn't love Cadbury Dairy Milk? Combine the two … and you've got our favourite Easter treat ever!
Win with Toeka se Mieliepap
Enjoy a healthy spin on a loved staple
Win a tipsy bar tending course
Stand a chance of winning an amazing full set of SVR Sun Secure
Summer days + total protection = safe fun in the sun
Stand a chance of winning an amazing voucher with Battery Centre
Top five battery myths debunked
Win your copy of 'Gister se oues'
Dance to the old tunes
Win with Royco
Enter this amazing competition to stand a chance of winning a handy Royco hamper
is a national brand of premium free magazines available in centres across the country.
to see other Get It magazines in the network.