It's all about love and family
A mother is always the glue that holds a family together. A quote from Kristin Hannah says: "My mother is the bones of my spine, keeping me straight and true. She is my blood, making sure it runs rich and strong."
Her role in the household is unmissable and her love is immeasurable. "Being a mother is the most important thing I have ever done. I always wanted to be a mother, and I enjoy every minute of it."
Like many creative people, I have found great inspiration on social media.
Dundee's Renè Sharp is not a new mother; two of her boys are in high school, while her youngest son is in primary school. She spends her mornings doing admin work for her husband and in the afternoons she is out watching her sons practice their school sports. "They are all very active in sports, so the afternoons always get hectic with all their activities."
But Renè believes a woman should be more than just a mother." You have to cultivate interests and hobbies of your own. It gives you a well-deserved break from everyday tasks and a moment where you can focus on something that's just for you." She has always been creative and loves knitting, crochet work and quilting. "Like many creative people, I have found great inspiration on social media.
"That's where I stumbled upon the concept of Indie dye. It's unique and fun. There's not a whole lot of people doing it in the country and it's absolutely amazing. Best of all, no two can ever be exactly the same. I was inspired and immediately ordered the correct dye and started doing it. It just grew into something I want to keep doing. Now I run a small business dying and selling wool around the country.
Renè's story started in Scottburgh, where she grew up. She met a banker named Ray soon the couple got married and decided to move back to Ray's hometown of Dundee, where he joined the family business. And Renè focused her attention on raising their first son. "It wasn't a big adjustment for me leaving Scottburgh to live in Dundee.
It feels good to be part of a club that is really geared towards uplifting their community
"I like the cooler weather here; things are less likely to rust and the air is a bit more dry. I will always have my childhood and young adult life memories and they have a special place in my heart, but Dundee is where my adventure as a wife and mother began. They are both pretty small towns, so I've always been part of a close-knit community."
This creative mother enjoys her small town life. "I've never been great with large groups of people. I'm much more comfortable having a meaningful one-on-one conversation. We've joined the Rotary Club and it's brilliant how involved they are in various projects in the Dundee area. It feels good to be part of a club that is really geared towards uplifting their community."
The Sharp family is also involved in a neighbourhood watch programme. "It's important for all of us to be proactive when it comes to our own safety. It's not just about keeping our own homes safe, it's about keeping our neighbourhood crime-free. It's a good project and we are overjoyed by the response from our community."
It's rare for Renè and Ray to escape for a weekend away, but they do make an effort to make it happen every once in a while. "Usually we take the children and their friends camping. We hook the caravan and stop at Drakensville or Natal Spa. We also love going to Utrecht or the coast. That's when I enjoy taking photos for my family scrapbooks. I, of course, have lots of scrapbook projects, capturing the boys' lives and our life as a family. Those special moments are to be treasured forever. Once in a while, Ray and I go away by ourselves. We book in somewhere special, go shopping, go to restaurants, watch movies and walk along the beach; it's divine. And it's a must just to reconnect as husband and wife."
With teenagers in the house, weekends are always crazy. They do their own thing, visiting friends and having fun, but Sunday is family time. "Sunday morning we play board games like rummikub and in the afternoons it's a hearty, healthy lunch."
With Mother's Day around the corner, Renè, like most other moms, likes to be treated to the day off. "I usually wake up to breakfast in bed and they take me out to lunch somewhere, but I'm definitely lucky enough to get the day off, meaning all my boys take care of everything around the house and let me relax and enjoy the day.
"In future, I see our family being healthy and busy, our boys grown into successful, happy men and my husband and I still loving each other more and more every day. I think my hopes for the future are realistic.
"All I want is for my family and my community to prosper in safety and in health."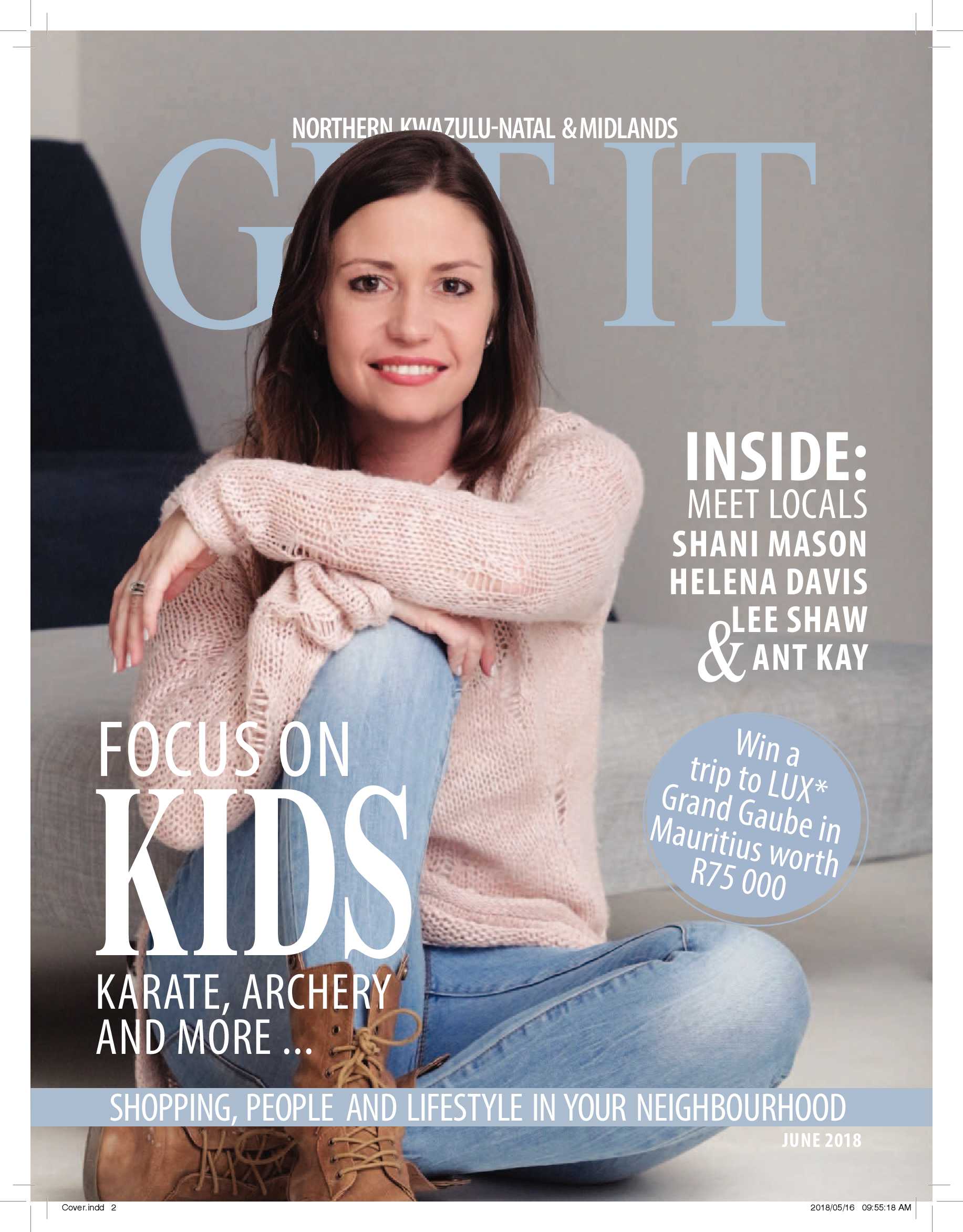 You could win a Cadbury Dairy Milk hamper!
Who doesn't love Peter Rabbit? Who doesn't love Cadbury Dairy Milk? Combine the two … and you've got our favourite Easter treat ever!
Win with Toeka se Mieliepap
Enjoy a healthy spin on a loved staple
Win a tipsy bar tending course
Stand a chance of winning an amazing full set of SVR Sun Secure
Summer days + total protection = safe fun in the sun
Stand a chance of winning an amazing voucher with Battery Centre
Top five battery myths debunked
Win your copy of 'Gister se oues'
Dance to the old tunes
Win with Royco
Enter this amazing competition to stand a chance of winning a handy Royco hamper
is a national brand of premium free magazines available in centres across the country.
to see other Get It magazines in the network.