Strength & Love
The human body is complex, resilient and beautiful. It is the vessel with which we explore the world. We don't often appreciate this complicated vessel until something goes horribly wrong. Ladysmith's Ishara Singh was struck down by an unfamiliar disease, she hit rock bottom and slowly pulled herself out of the darkness to find happiness in a second chance at life. "After many years of uncertainty and symptoms pointing to various conditions, I was diagnosed with lupus. It's been seven years and I feel that I should spend my time creating awareness about the disease and its effects on the body. Not many people understand lupus, and it makes those who suffer from it feel very alone." Lupus is an autoimmune disease that causes the body to attack itself. Those suffering from lupus look fine, but inside they are suffering from pain and extreme fatigue every day. "Making peace with your situation is key. I've been so fortunate to have the support of my family.
My husband Harry is the source of my strength. Having support is key to dealing with the condition on a daily basis. Because I have first-hand experience, I want to help others, especially those people who are just starting their walk with lupus to understand and cope with this complicated disease. It renews my spirit to know that there can be more to my life than just me." Ishara is a slender, strong and youthful woman. At face value, it would be hard to imagine that her body is at war with itself. She looks perfectly healthy. Perhaps it is the positivity radiating from this petite mother of three that would fool people into thinking that she is the picture of health. And she lived with the disease for years without even knowing it. "In 2008, my eye would start swelling at random times. It looked like I had been punched in the eye. The doctor prescribed a steroid-based medication and after a week or two, my eye would be healed, only for it to flare up again a couple of months down the line. Eventually I went to see a specialist who put me on the same steroid-based medication, but a very strong dose. My eye never flared up again, but little did I know the steroids made the lupus go into remission… at least for a while. A while after that, my right thumb would swell and the skin peeled off. Antibiotics wouldn't work as there was no infection present; I was treated for all kinds of possible conditions, but nothing worked. The migraines also continued. Then I got a painful stitch in my lungs when I took deep breaths. After trying numerous medications, it finally went away." In 2010, her life changed and she would meet her bitter-sweet companion for life. "You never think that something like this could ever happen to you. Especially something so rare and life threatening. It all started off like any other week. I was on my menstruation cycle; it was much heavier than I've ever experienced, but I just assumed it was age or stress.
I want to show others who have to live with lupus that we don't have to give up
Harry went off on a fishing trip, I had my teenagers at home and I went to work as usual. Every day the flow got heavier and I felt sapped of energy. Friday afternoon I lay down for a while and when I awoke, I noticed that my mouth was bleeding. The next morning my gums were still bleeding and when I blew my nose, there was a shocking amount of blood. I also noticed red dots all over my body and the inside of my mouth was covered in blood blotches. I quickly went to the doctor and when he saw me, he ordered me to go to the laboratory at once to get my blood tested. I was an emotional wreck! I didn't want Harry to worry and I didn't want the rest of the family worried either, so I sat alone at home waiting for the results. I've never felt so alone and vulnerable in my life. A few minutes later, the doctor phoned me and told me he was already waiting for me at the hospital. I knew something was horribly wrong, but when I heard the word "hospital" and the urgency in the doctor's voice, it was as if a dark hole was swallowing me. I spent two weeks in hospital, receiving many pints of platelets as the lupus was destroying my platelets. I think that is also why I'm so passionate about people donating blood. It takes six pints of blood to make one pint of platelets. There are so many conditions which require blood. Lupus is not something you catch because of something you did wrong. It is not contagious and there is nothing you can do to avoid it." Her outlook has changed since then. She has had dark days, but her positivity and love for her family has seen her through. "When I have bad days, which I call upside-down days, I get up, put on my best dress, some makeup and I tackle the day head on. Living with lupus is not the end. If you choose life, there is life after diagnosis." She has given talks spreading lupus awareness in Bethlehem and in Ladysmith. "With a positive attitude, half the battle is won. I won't let this disease get me down. And I want to show others who have to live with lupus that we don't have to give up. More and more cases of lupus are coming to light. It is not just important for those suffering from this disease to know everything they can about it. It is also important for family members, friends and employers to understand the effects." Ishara Singh is a strong woman – she was knocked down by an unknown enemy, but the deeper she digs into knowledge, the less frightening this enemy becomes.
She wants to share this knowledge with others, to lighten their burden, let them know they are not alone and to help those who are still undiagnosed. "Anyone who wants to join the local lupus support group can contact me at 082-716-9136 or email me at ishara.singh@telkomsa.net."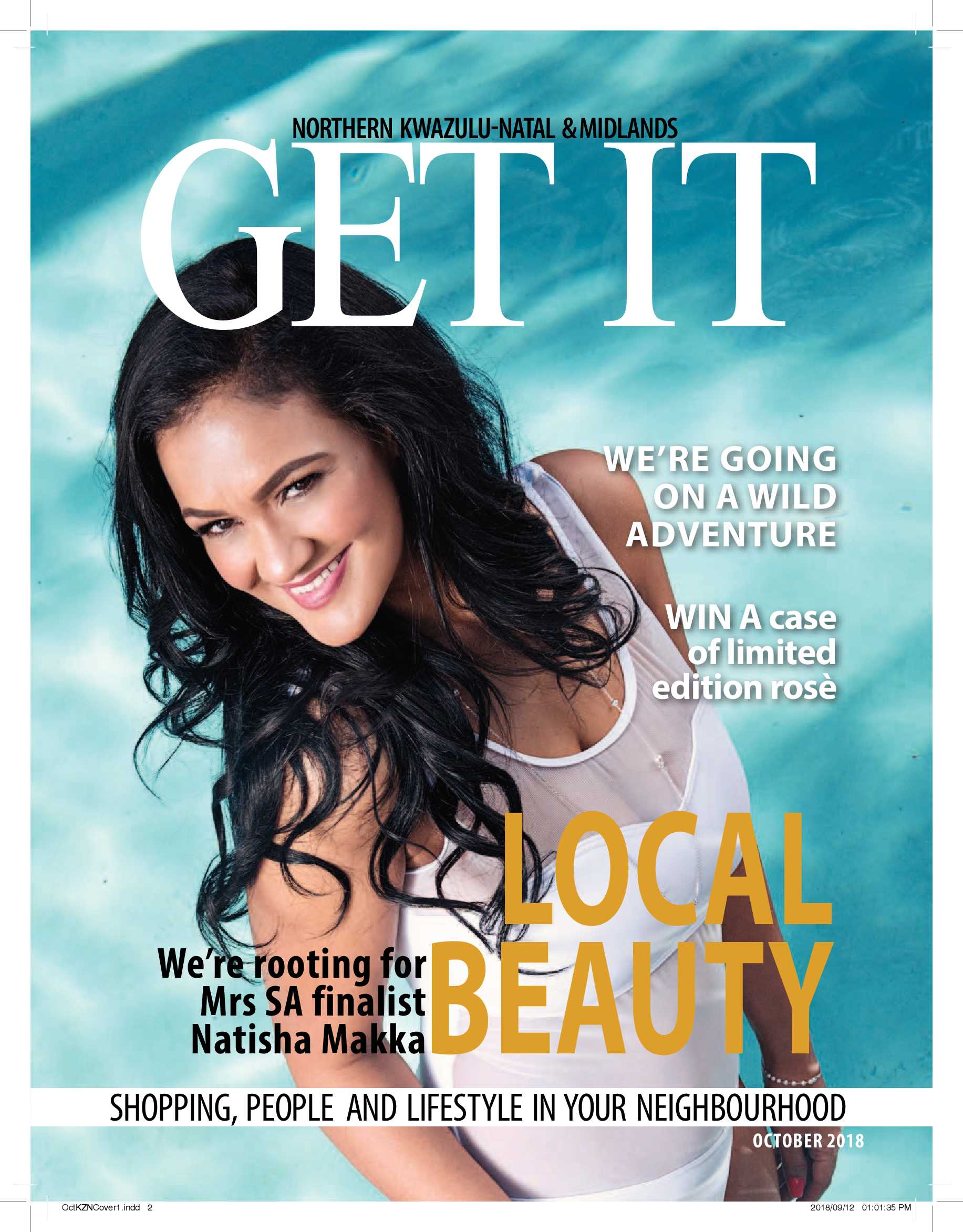 You could win a Cadbury Dairy Milk hamper!
Who doesn't love Peter Rabbit? Who doesn't love Cadbury Dairy Milk? Combine the two … and you've got our favourite Easter treat ever!
Win with Toeka se Mieliepap
Enjoy a healthy spin on a loved staple
Win a tipsy bar tending course
Stand a chance of winning an amazing full set of SVR Sun Secure
Summer days + total protection = safe fun in the sun
Stand a chance of winning an amazing voucher with Battery Centre
Top five battery myths debunked
Win your copy of 'Gister se oues'
Dance to the old tunes
Win with Royco
Enter this amazing competition to stand a chance of winning a handy Royco hamper
is a national brand of premium free magazines available in centres across the country.
to see other Get It magazines in the network.