The spice of life
Kavitha Laloo believes that food is not merely a way to nourish the body. Food is also a way to bring people together. "With the right food, you can create a festive atmosphere and bring people together. And in doing so, you strengthen your bond with the community. Nothing makes me happier than getting together with friends and family with spreads of gorgeous food on the table. Variety is always key, and taste is the secret. Meals should never be served in front of the television. I find it incredibly sad to see such a wonderful opportunity for bonding and connecting wasted with a tray on the lap, staring at the telly."
This Newcastle mother of two is so passionate about cooking that she decided to publish her very own cook book. "My cook book is a mixture of Indian traditional and Western dishes. There are so many young women out there who do not know how to make traditional meals. I want to change that. I want a beautiful curry on every table, a flavourful dish that would make even the neighbours salivate."
Kavitha is a diverse woman with many interests and many experiences. Her love for the kitchen is just one aspect to this unique woman. "Both my husband and I come from humble beginnings.
Owning a business is incredibly hard work
When we met, it was love at first sight. We knew that we were meant to be together. So, before we even started with our tertiary studies, we got married. And things were definitely not moonshine and roses. We both got jobs in retail to pay for our own studies. Looking back now, it was an invaluable learning experience for us."
It was a long journey for the Laloos to get to where they are today. After many years of dedicated hard work, the couple eventually opened their own business. "Owning a business is incredibly hard work, but we are both driven and determined. We make an incredible team."
Kavitha believes that the reason why she appreciates the little things in life so much is because of the trials they had to battle through to get the things they have today. "Having the privilege of being a mother is perhaps something I appreciate the most. We battled to conceive for eight years. This was a very difficult time for me, as having children is such a natural thing, it's almost expected. But people sometimes don't realise that it's not always that easy. I felt like I was failing as a woman, as a wife. We got medical intervention and soon I was pregnant. We were not just expecting one, but two boys. But when the children were born, one of our twins didn't survive. To this day I feel that he has left emptiness, he will always have his own place in my heart. Eight years later, we were blessed with another healthy little boy. I am so grateful for our family, my children mean everything to me."
This successful businesswoman learnt a lot from her grandmother, the calm and helping hand who raised her. "My grandmother raised me. She is the reason I am the person that I am today. She raised me with love and kindness. I remember sitting on the kitchen counter while she was cooking. She made me help her, but she always made a game out of it. I never realised that I was actually doing the cooking!
It's funny how things turn out, because when I was older my gran got sick. It is as if she prepared me to take over the responsibility of cooking.
My recipe book is dedicated to her memory; it's not just old recipes thrown together in a cook book. We are constantly changing and evolving. I've taken the old classics and added a modern spin to make those traditions grow and change with us as a society."
She adds that her recipe book is a step by step, flop proof recipe guide. "I love writing and designing, I have so many ideas for the future.
My next cook book will be something along the lines of flavours of the world. We often travel to new countries. I want to compile a recipe book that takes you on an adventure through different cultures, without having to leave the kitchen."
The Laloo family is fortunate enough to be able to make annual trips overseas. "We have visited many countries. My favourite has to be Dubai, actually the Emirates is an exciting place to visit. Everything is just so spectacular. When we visit, my boys and I always play our own version of 'The Amazing Race.' There is so much to see and every year when we pass through, there are new things to explore. I love how safe you feel there, we can explore without any fear.
When it comes to food, Dubai has a wide variety, and perhaps it's because everything is so magnificent there that their food is also fantastic.
Some of the Asian islands and countries we visited have made me thankful for safe food franchises like Mc Donalds.
If in doubt, order a big mac, especially for the boys."
Christmas is a special time for them. "We are not Christians, but we are South African, and Christmas is a tradition that we also follow. We set out snacks for Santa on Christmas Eve and my brother-in-law comes bursting through the door with his fake beard and Santa suit to deliver presents to the family children.
Afterwards we gather on the porch where I prepare our meals while the children play and the adults feast on treats. It's such a beautiful time of year, social and relaxed.
To win one of two copies of Kavitha's new cookbook 'be inspired' simply fill in the form bellow:
This competition is now closed
The competition runs from 26 November until 15 December 2017.
If you are an employee of Caxton (or of its shareholders, any of their subsidiaries, franchises, dealers or any company affiliated to its shareholders), or a family member or business partner of such a person, you are unfortunately automatically disqualified from this competition.
Entrants must be over 18 and be residents of SA.
A winner will be randomly drawn.
The prize is not transferable and cannot be exchanged for cash.
Winners will be notified via email or phone.
We will treat all personal information obtained through your entry as private and confidential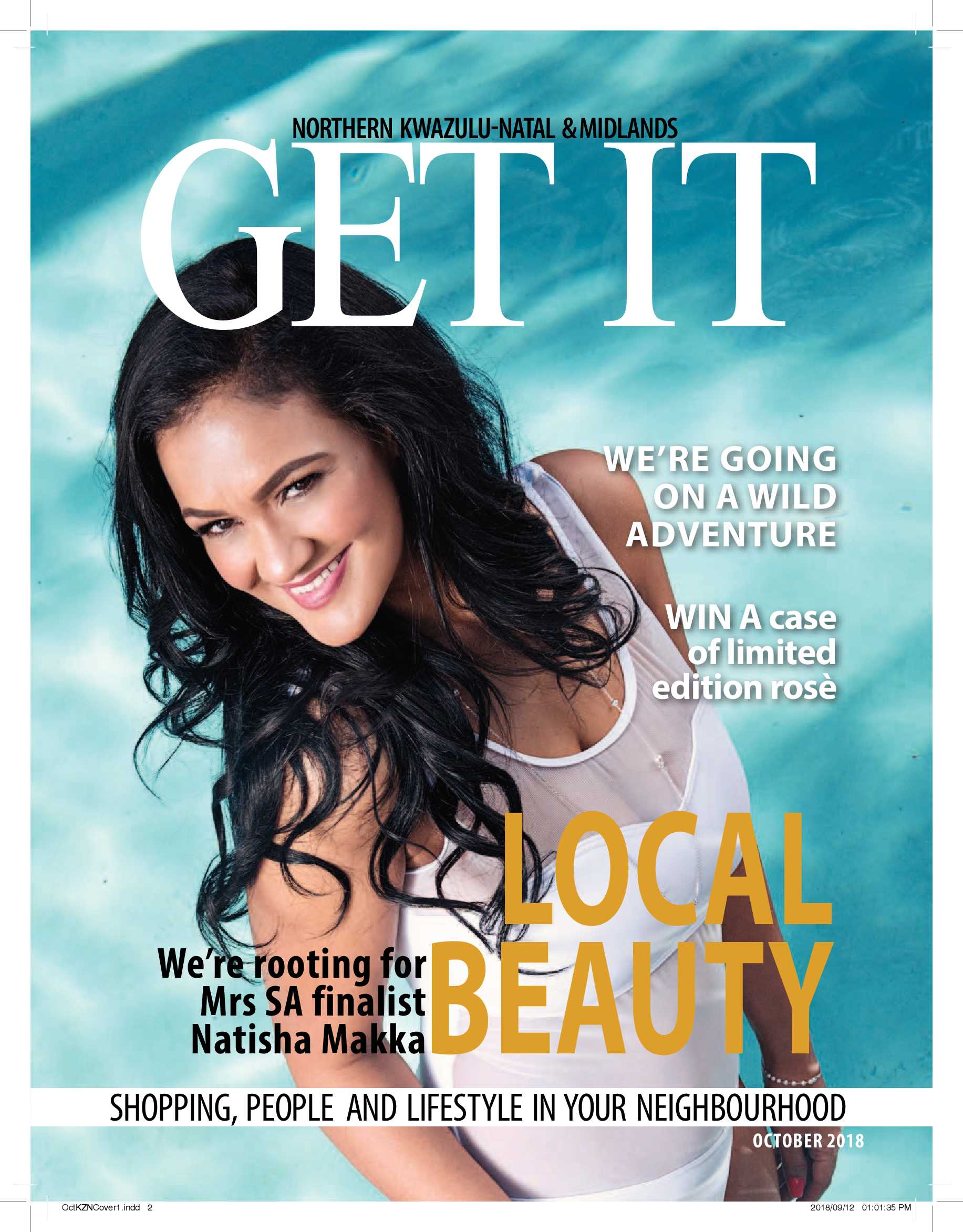 You could win a Cadbury Dairy Milk hamper!
Who doesn't love Peter Rabbit? Who doesn't love Cadbury Dairy Milk? Combine the two … and you've got our favourite Easter treat ever!
Win with Toeka se Mieliepap
Enjoy a healthy spin on a loved staple
Win a tipsy bar tending course
Stand a chance of winning an amazing full set of SVR Sun Secure
Summer days + total protection = safe fun in the sun
Stand a chance of winning an amazing voucher with Battery Centre
Top five battery myths debunked
Win your copy of 'Gister se oues'
Dance to the old tunes
Win with Royco
Enter this amazing competition to stand a chance of winning a handy Royco hamper
is a national brand of premium free magazines available in centres across the country.
to see other Get It magazines in the network.