Voice of the voiceless
Elisha Maharaj Gurlal is a lawyer, not because she wants to chase glamour or that she is interested in great wealth. She became a lawyer so that she could speak for those who cannot speak for themselves. It's because she is no stranger to hard work that she has won the respect of her peers. Elisha works for Legal Aid, and for the last 11 years, she has poured her heart and soul into her work. This year she was acknowledged for her efforts. "I was invited to Legal Aid's regional achiever awards. I never, in my wildest dreams, thought that I would win at this award ceremony.
Her job requires community involvement, but this is something she feels comes naturally
There were three civil attorneys nominated and I was one of them. Imagine my surprise when they called me up as the winner. This placed me in the running for the national achiever award, I came second in the country, and I am overjoyed. I know the hard work we do every day and to get awarded for it is such a great honour.
For me being recognised on that level is fantastic. I know I've worked hard and it was certainly not an easy journey."
When you think of a lawyer, what comes to mind would probably be high-profile clients and thousands of rands. When it comes to Legal Aid, the truth is wildly different.
"Legal Aid is there to provide legal services to those who cannot afford it. Some of our clients are so desperately poor that they cannot afford a loaf of bread."
Her job requires community involvement, but this is something she feels comes naturally. "I do a lot of community work both for work and apart from work.
I do a lot of public speaking as well, where I apply my knowledge of the law to empower others. My mother and sister are both involved with CANSA and I love helping them where I can. My religion teaches us that hands that serve are holier than lips that pray. What you do to make your religion come to life is important and serving others is a responsibility we all share."
She was born and bred in Newcastle, where she grew up with her parents and two sisters.
"My parents laid a strong foundation for us. They sacrificed so much to see us succeed. My mother's passion for what she does inspired us to be go-getters."
Her plan was not to study law, but her life took a sudden turn when she met her husband, Kamlesh. "I decided the day I went to register at Durban University to study law. My then boyfriend Kamlesh was already studying law and his absolute passion for the field inspired me.
I came back to Newcastle to serve my articles. Serving articles is a difficult time for any lawyer, as you have to put an enormous amount of work in and you don't earn much. So it just made sense for me to be at home."
he is always pushing me to be the best I can be
While she served her articles, Legal Aid decided to open a branch in every town to give all people equal access to justice. The lawyer she worked for was getting ready to head the new justice centre opening in Newcastle.
"This means that I would no longer be able to serve my articles. I needed to act fast, so I applied to the justice centre in hope of completing my articles. I was lucky enough to be accepted. After I was admitted as an attorney, Kamlesh and I finally got married."
The couple decided that they wanted to go on an adventure to England to experience something new while they were young. "It's a different lifestyle over there. While we missed our family, we were enjoying our journey."
They stayed in England for eight months before Elisha received devastating news from home. "Someone very close and dear to me had passed away.
That really made me put things into perspective. How could I live so far away from the people I love.
We then decided it would be best for us to come home. We belong here and it just made sense."
She was lucky enough to get another position at Legal Aid while her husband opened a practice. "This was in 2006, so many things have happened since then. We welcomed two beautiful little boys into the world and Kamlesh realised his dream of becoming a magistrate. My husband is an amazing man; he is always pushing me to be the best I can be."
Being a career woman, mother and wife is not an easy thing. "It's hard to find balance and I think I, like most women, end up neglecting myself. That is why I make a point of going for spontaneous facials, pedicures, manicures or massages. I think it's important for women to take time to pamper themselves."
The Gurlal family is looking forward to taking a well-deserved break.
"I'm not good at slowing down, but when we do take a break, we love being near water.
A trip to the beach is more than enough to make us happy. We are not extravagant people and we enjoy the simple things in life.
As a family, we are always on the go weekends, attending family functions or doing community work.
Being at home watching a movie is a rare and special treat. Just being together is what matters at the end of the day."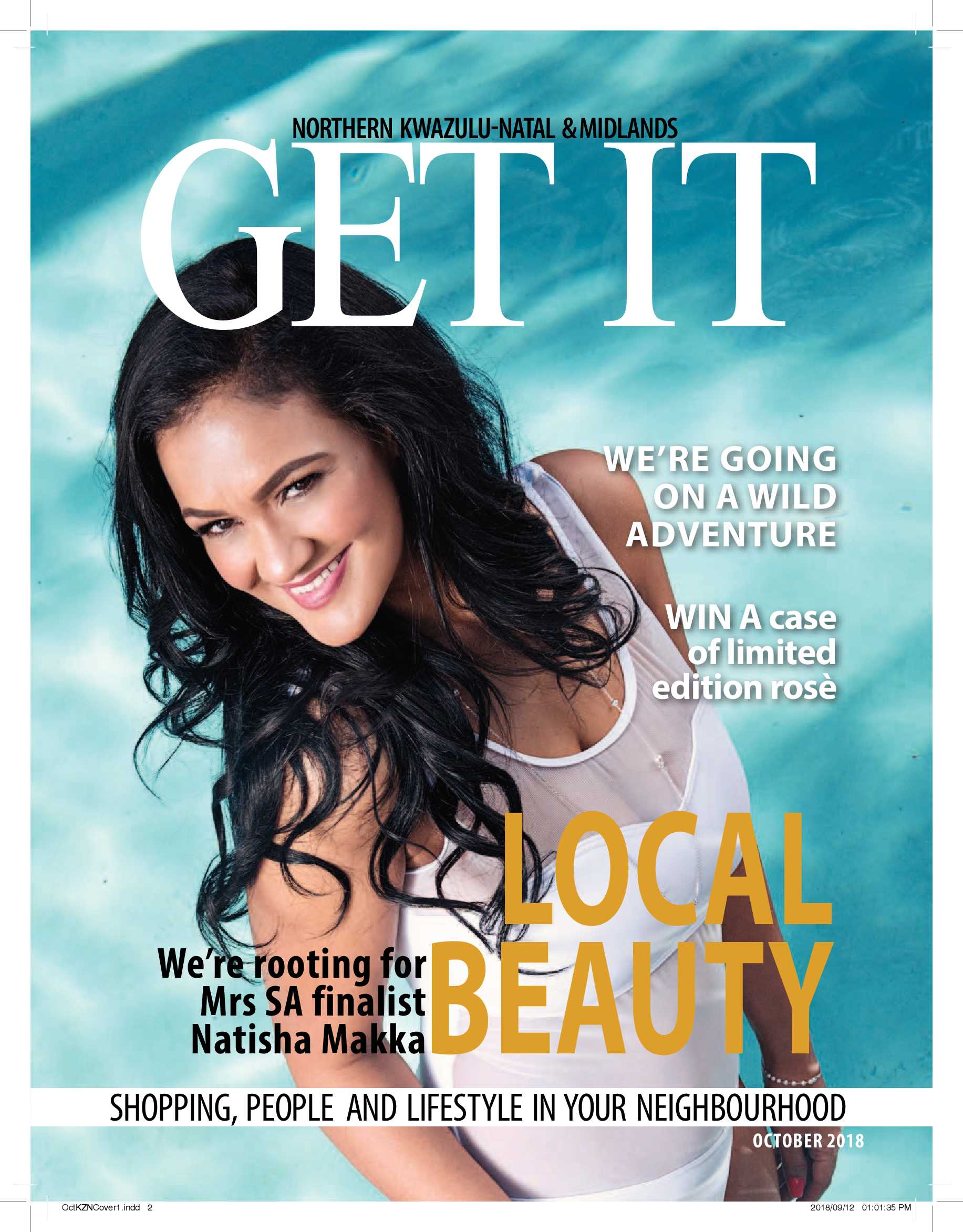 You could win a Cadbury Dairy Milk hamper!
Who doesn't love Peter Rabbit? Who doesn't love Cadbury Dairy Milk? Combine the two … and you've got our favourite Easter treat ever!
Win with Toeka se Mieliepap
Enjoy a healthy spin on a loved staple
Win a tipsy bar tending course
Stand a chance of winning an amazing full set of SVR Sun Secure
Summer days + total protection = safe fun in the sun
Stand a chance of winning an amazing voucher with Battery Centre
Top five battery myths debunked
Win your copy of 'Gister se oues'
Dance to the old tunes
Win with Royco
Enter this amazing competition to stand a chance of winning a handy Royco hamper
is a national brand of premium free magazines available in centres across the country.
to see other Get It magazines in the network.