A passion for Medicine
Who is Dr SL Sibiya?
Who is Sydney Langelihle Sibiya and when did Dr SL Sibiya Inc start operating?
I was born in rural KZN in Kranskop in 1965, where I lived until I was nine years old. I then moved to Umlazi in Durban and qualified as a medical doctor from the University of Natal in 1991. I started working as a general medical practitioner in the Durban Point area in 1995 and moved to Ladysmith in 1997.
What exactly is the nature of your business?
I provide medical consultations at the level of a general medical practitioner. That means I attend to all ages of people for all types of illnesses and problems, and up to now I have also been providing medicines from the surgery as part of the consultation. I have a special interest in the treatment of HIV and AIDS, chronic diseases like Diabetes and Hypertension, and the management of children's illnesses.
A brand new beginning
What prompted the re-branding and repositioning of the practice?
I have been a qualified medical doctor for 26 years. During this time, I have accumulated vast practical medical and life experience and several academic qualifications. I want to integrate all these and provide a superior value service to the community. I prefer quality to quantity.
Tell us about your new practice at 10 Malcolm Road next to Essen Medical Centre.
This is a completely new practice in new premises and is significantly different from what I used to offer at my previous premises near the Home Affairs offices in town. I decided to re-brand and reposition the business. This has entailed several things. The physical structure and ambience of the business has become distinctly upmarket. We will be offering free access to Wifi connection to our clients within our premises. Business hours have been extended to 6pm. We have added new services such as occupational health medical examinations, wellness services such as an annual medical examination and individualised advice on healthy living, and we will also engage in clinical trials research from the premises and the adjoining Essen Medical Centre. The Occupational Medicine offering will see us conduct Audiometry (hearing) tests, Spirometry (lung function) tests and Vision screening in the course of performing pre-employment, surveillance and exit medical examinations. In time, we will also include executive wellness medical examinations for the corporate sector. The major component of our Wellness Medicine service will be the Annual Medical Examination. This is a comprehensive yearly medical examination (available to our patients and anybody else) that is tailor made to the patient's specific risk profile based on age, gender, lifestyle, etc. It will include laboratory and other specialised tests and its aim is to provide clients with information and advice about their personal health risk profile in order for them to take steps to prevent ill-health and promote well-being. We are in the process of acquiring the specialised equipment for our Occupational Medicine and Wellness services.
You will no longer be dispensing medicines. What prompted this decision?
The dispensing of medicine is the professional task of a pharmacist. Doctors do it because of the shortage of pharmacists in the country and as a (free) service to their patients. A doctor's primary professional expertise lies in providing a comprehensive medical consultation service. There is a financial consideration to stopping dispensing and it will offer us additional time to do what we are professionally trained to do. The other consideration is that there is a pharmacy within Essen Medical Centre.
Will your practice still attend to un-booked (off the street) clients?
Yes, we will attend to both booked and un-booked patients. But it is important to emphasise that we encourage patients who wish to consult with us for non-emergency purposes to make reservations for mutual convenience. Consultations for occupational health assessments and for annual medical examinations will definitely require prior booking.
Education is key
What are your professional and academic qualifications that allow you to provide such a broad range of services?
I obtained the basic medical degree (MB.ChB) from the University of Natal (now UKZN) in 1991. While working at Prince Mshiyeni Hospital in 1994, I obtained the Diploma in Child Health from the College of Medicine of South Africa. In 1999 and 2000, I studied part-time for the Post Graduate Diploma in Occupational Health at UCT. I obtained the Diploma in HIV Management from the College of Medicine of South Africa in 2006. My highest academic qualification so far is the Master of Philosophy in Applied Biomedical Ethics that I obtained from the University of Stellenbosch in 2014. I worked in government hospitals before starting my private practice and I continue to do sessions once a week in the Neonatal ICU of the Ladysmith Provincial Hospital. I also work part-time as a Principal Investigator (researcher) at Qhakaza Mbokodo Research Clinic and also as an Occupational Medical Practitioner at Sumitomo Rubber SA (Dunlop tyre-manufacturing factory). I have long-established and cordial professional relationships with and refer patients to medical specialists such as paediatricians, surgeons, gynaecologists and physicians and have, over the years, gained valuable insights into their work. Part of our unique position is our experience in and the ability to co-ordinate the comprehensive care of clients in conjunction with medical specialists and other allied professionals such as dieticians, psychologists and physiotherapists, to name just a few.
On a personal note
Who is Sydney Langelihle Sibiya outside of the workplace?
I am a married father of three, aged 29, 19 and 16 years old. As an African, I am also a father to all children and young people in the community. I have been married to Mbali for the past 21 years and my biological children are Zandile, Siphesihle and Ngiphiwe. Otherwise, I am a normal yet complex human being who likes people, his professional work, life, cars, politics and education. Oh! I am also a life-long Kaizer Chiefs supporter, which gives me a little stress from time to time. I also believe that I have a great sense of humour.
How do you relax?
I go to Durban to buy books at Exclusive Books and eat fish at Cape Town Fish Market at the Gateway Shopping Mall. I relax by doing and reading about non-medical things, like philosophy, politics and literature.
I also watch soccer live or on television and spend time with the family. I am currently enrolled in a short online course to learn about writing books. So, in future, you must look out for a short story collection and a memoir by me.
Thank you, Dr Sibiya, for agreeing to do this interview with us. Lastly, can you give us your philosophy on life or a mantra you live by?
If something is worth doing, then it is worth doing well. I am allergic to mediocrity and lazy thinking. Thank you very much for affording me this opportunity to talk about what I do and enjoy doing.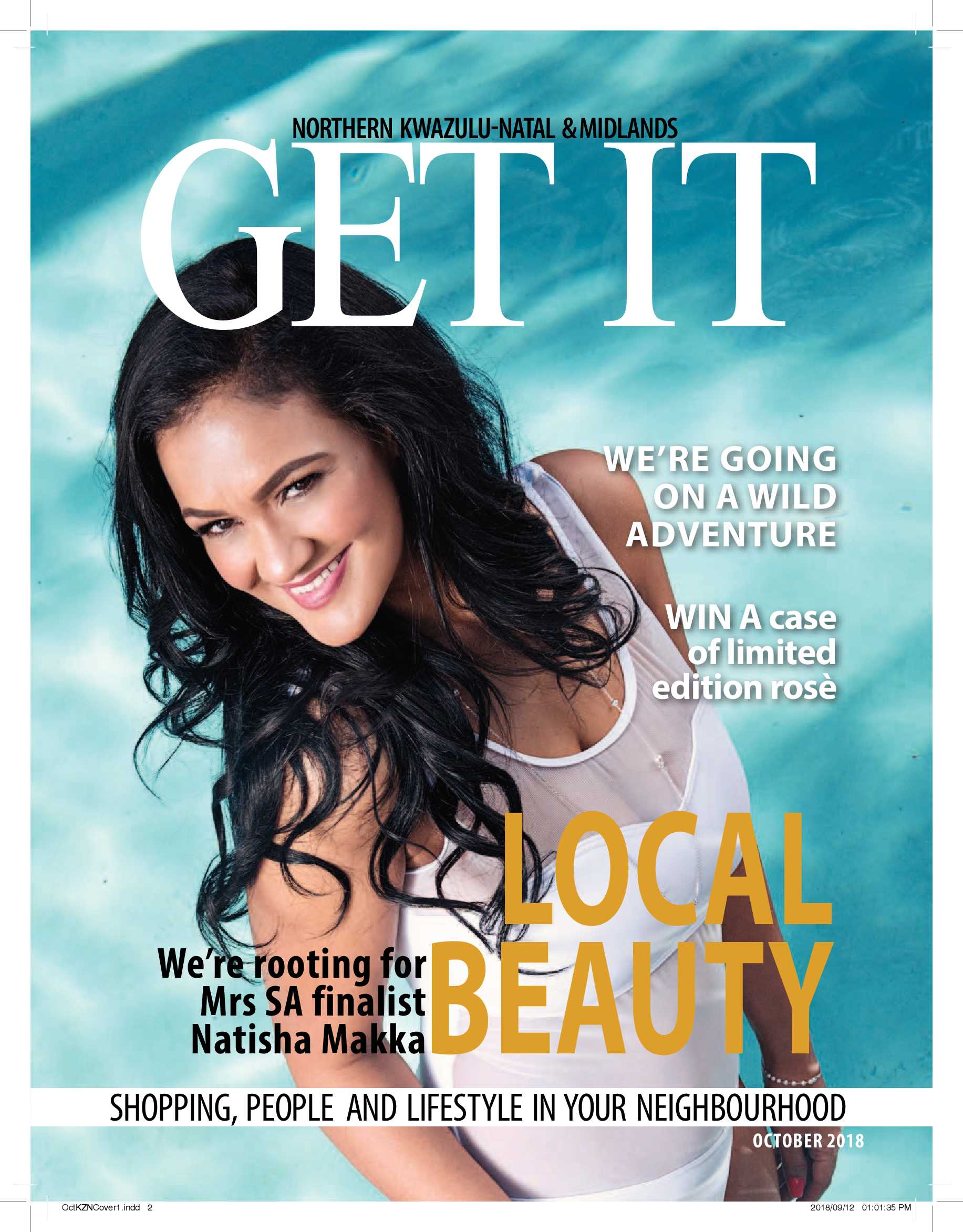 You could win a Cadbury Dairy Milk hamper!
Who doesn't love Peter Rabbit? Who doesn't love Cadbury Dairy Milk? Combine the two … and you've got our favourite Easter treat ever!
Win with Toeka se Mieliepap
Enjoy a healthy spin on a loved staple
Win a tipsy bar tending course
Stand a chance of winning an amazing full set of SVR Sun Secure
Summer days + total protection = safe fun in the sun
Stand a chance of winning an amazing voucher with Battery Centre
Top five battery myths debunked
Win your copy of 'Gister se oues'
Dance to the old tunes
Win with Royco
Enter this amazing competition to stand a chance of winning a handy Royco hamper
is a national brand of premium free magazines available in centres across the country.
to see other Get It magazines in the network.