Focused on happiness
There are many marvels in nature, including the human body. None of which, according to Marietjie Kriel, is as captivating as the eye. "Eyes are said to be the windows of your soul, but I've learnt that they are far more than that. There is a reason the eye and the cosmos look so similar, it's a mysterious and delicate beauty. Your eyes are the way you absorb most of your surroundings and experience life, probably our most treasured senses. With the help of the right professional, your eye can be a map of your body, indicating conditions like high blood pressure, diabetes, etc ." It is vital to visit an optometrist on a regular basis. Early detection of eye diseases can prevent blindness. " Marietjie spent most of her childhood in Sasolburg, where her father was the first and only barber. "My father was a well-respected man in Sasolburg. As a matter of fact, they named a street after him. It was always a confusing situation when his letters were addressed to Jan Botes on Jan Botes Street. Word spread and later on he was invited to open a barber shop in Secunda. When he finally hung up his scissors, he had opened four barber shops which he eventually sold. He inspired me to follow my dreams and never be afraid of hard work and dreaming big."
she followed her heart and went off to study nursing
She grew up with a passion for nursing, so despite peer pressure trying to force her into a different direction, she followed her heart and went off to study nursing.
"It felt like my life was really taking shape. I got married to my first husband and when my eldest daughter, Ronell, was born, suddenly it felt like my world was falling apart. My newborn baby was perfect in every way, but one of her eyes did not develop at all. I didn't know what to do. We were referred to, in those days, HF Verwoerd Hospital in Pretoria and were advised to wait till she was two. When she was three months old, a neighbour told us about an Ophthalmologist in Johannesburg, where she received the first of many ocular protheses. As time went by and with the help of a brilliant Ocularist, I realised that she was going to be all right. She was a super-intelligent child who grew up to be a successful, career-driven woman. I think this is where my love for optometry started."
Years later, after taking a break to raise her three children, she got back into the working world with a position as a receptionist at an optometrist. "This was the beginning of a new life for me. I discovered my passion and every day I learnt more and more. From there, I worked for a large optometrist firm, soon got promoted to New Practice Development and Training Manager, and then as a membership liaison officer for the South African Optometric Association where I lived my passion for this amazing industry."
My son Coenie was my motivation to get better and face life again
It was 2014 when her life was going to take another rapid turn. "In 1996 I got married to Johan Kriel , who brought so much calmness to my extremely busy and demanding lifestyle and always treated me with love and respect. In July 2014, 12 days after his 60th birthday , he passed away suddenly and unexpectedly. I was devastated and realised that this was something I didn't know how to deal with."
10 days after Johan died, Marietjie was diagnosed with aggressive stage three breast cancer. "That same year, my younger sister lost her husband who was diagnosed with Scleroderma and Ronel was also diagnosed with breast cancer. It was dark times for us. I went to stay with my middle daughter Renè and her husband Gerhard. Renè was always by my side; every chemo, every radiology treatment. Rene was my caregiver, my strength and my pillar. Gerhard was my crutch to lean on when I was too tired to walk. The love of my grandchildren made me get out of bed every morning, even when I felt like hiding in a place where there is no pain and heartache. My son Coenie was my motivation to get better and face life again."
She sees this ordeal as another opportunity to learn and perhaps use that to help those around her. "Overcoming cancer is a long road and things always get much worse before they get any better. I think support, faith and a positive mindset plays such an important role in recovery. My doctor was absolutely incredible. During that time, I received the best and most helpful advice from a friend: "Thousands of women get diagnosed with breast cancer every year. Find that doctor who will treat Marietjie as an individual and not as one of thousands."
I can honestly say I'm in a really good place in my life right now
In 2015, she was officially in remission. Three months later, she was offered a position in Newcastle as a CEO of Optical Alliance. "I'm a religious person and I don't know if I would have made it through all of the storms in my life if I wasn't. I believed with all my heart that Newcastle was the right move for me. This is where I belong, where I must make a difference. At the age of 60, I moved back to a town I left 40 years ago, with no family or friends to turn to. It's been over a year since I moved and I can honestly say I'm in a really good place in my life right now."
Not only has she gained the respect of her community for the dedication she shows to her work, she has touched many lives with her experiences. "I love people; my heart and my door is always open. I feel you have to be involved in your community. I've spoken to many women during their journey with breast cancer. It's a special thing to be able to share with them my experiences, hold their hands and let them know they are not alone. There is life after breast cancer."
Marietjie says that her life is full. She might not live close to her family, but she visits regularly. "Christmas time is my favourite time of year. Being with my family is what it's about.
My son Coenie works in the sporting industry, so there is always some form of sports being watched or played while my grandchildren play and run around. This is what I fought for, being able to have more time with the people that matter most to me."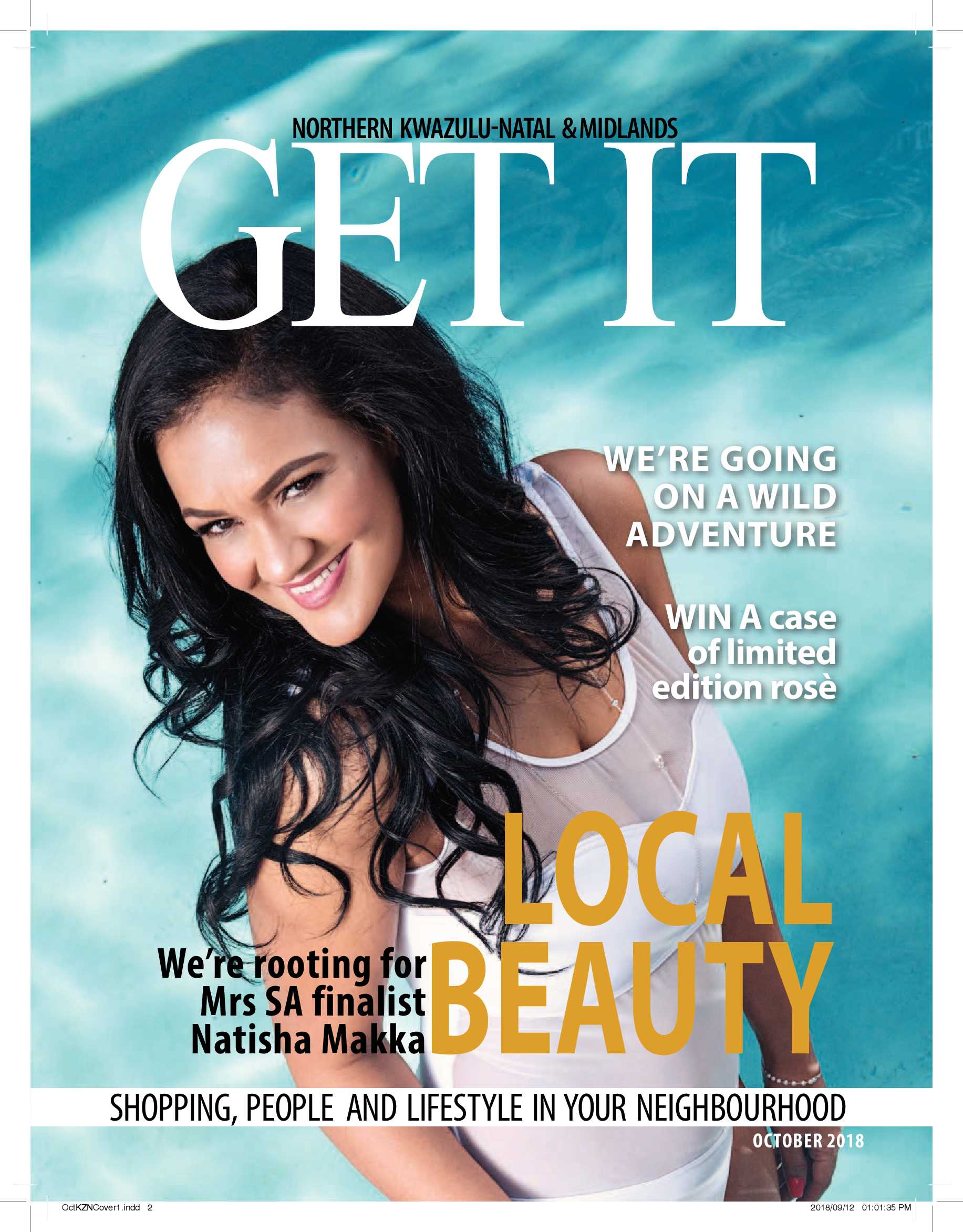 You could win a Cadbury Dairy Milk hamper!
Who doesn't love Peter Rabbit? Who doesn't love Cadbury Dairy Milk? Combine the two … and you've got our favourite Easter treat ever!
Win with Toeka se Mieliepap
Enjoy a healthy spin on a loved staple
Win a tipsy bar tending course
Stand a chance of winning an amazing full set of SVR Sun Secure
Summer days + total protection = safe fun in the sun
Stand a chance of winning an amazing voucher with Battery Centre
Top five battery myths debunked
Win your copy of 'Gister se oues'
Dance to the old tunes
Win with Royco
Enter this amazing competition to stand a chance of winning a handy Royco hamper
is a national brand of premium free magazines available in centres across the country.
to see other Get It magazines in the network.