What's on my table
Christmas time is a festive time of year in the Massyn home. The sweet smell of freshly made desserts, the laughter of loved ones and calming sound of jazz melodies fills the air. "There is a special kind of magic that only the festive season can bring. Life is so short, so when you get the opportunity to celebrate, pull out all the stops and make it something wonderful."
Pierre Massyn is a well-known face in Ladysmith. Not only is he the owner of Egerton Manor Bed and Breakfast, he is an eccentric spirit who explores the unusual and finds beauty in the small things in life.
Getting the house ready for the busy festive season means hours of preparation. "We are normally the host of family at Christmas. This means decorating the house to create a holiday mood. We normally use fresh trees or branches. I think getting creative with the Christmas tree is a must. Anyone can buy a plastic tree, but when you make if yourself, you can create something phenomenal."
The decor items around the Massyn home shows their flamboyant creativity. "When Sorika and I put our heads together, it's an explosion of creativity.
My wife is the handyman of the house, and over the years we have collected so much. We hardly ever throw anything away, so we have to make some sort of plan to keep these things and make them fit into our style."
During the year, they put together gift parcels for the old age home and on Christmas Eve, they surprise the elderly with gifts.
"Christmas is a season for giving, not that you should not give throughout the year, but there is something about the silly season that makes you realise how many people are alone. I think this is the time to go the extra mile for people. I think we don't realise how special it is to others when we do thoughtful things for them."
Pierre is known for his delicious food, so no wonder the festive menu is something he plans with meticulous detail.
"Christmas Eve we start in the afternoon with snacks, and no… snacks never means peanuts and crisps when there are so many delicious snacks to make. Don't think about dieting this time of year, don't fight it, everyone picks up a little weight over the festive season and it's not the end of the world. Ideas for snacks include stuffed bruschetta, strips of steak with a dipping sauce, vegetable or tomato tartlets and cocktail sausages. Make an effort, it's Christmas after all."
At midnight it's time to wake the children and open gifts.
"It's always been a tradition in our family. At midnight we pour a glass of champagne and open presents. At around 2am we are all in bed, because Christmas morning is always an early start."
Christmas Day is about feasting and spending time with family. "Breakfast is usually very small; a fruit juice and toast. This is only because tea is at 11, and tea time means cake… and lots of it."
Pierre is lucky enough to have his parents over for Christmas most years. "They enjoy a traditional meal with vegetables, boere beans and pumpkin fritters. I usually make the meats the day before, things like lamb roll, stuffed chicken and pork neck."
Because we have a hot Christmas, Pierre feels our traditional Christmas lunch is too heavy.
"I often opt for salads. This is where you can get creative and really make something special. This year I will be making a radish salad."
And to round off the perfect Christmas lunch, a decadent dessert. "I enjoy treating my guests to family favourites like pumpkin pie, black forest cake and trifle."
Pierre says his family certainly has a sweet tooth.
"We never over-indulge on drinks, as there is just so much to enjoy on the table, but I do serve sweet cocktails, usually non-alcoholic, and I do love bubbles. A bottle of champagne or sparkling wine."
Another variation has had on his Christmas table is curries. "It's just who we are, the rich culture of Natal influences us, and we embrace it. I think we are spoilt here when it comes to variation.
Our traditional foods are much lighter than, let's say, the Free State, where they include meat in virtually every meal throughout the day. Here we have Zulu, Indian, English and Afrikaans traditions influencing what we eat. I have done curries over Christmas. I mix things up to include three curries – trout, mutton and prawn."
With such a big family, things can get a bit chaotic, but not in the Massyn house.
"We have a large family, especially when it's both the families coming together. We've been doing it for so long that I think we have a great balance. We laugh a lot and we talk about everything. I think it's important to give each other space and to respect each other's opinion. If you don't share their opinion, just keep quiet."
While the family feasts around the porch table, Pierre creates ambiance with the soft sounds of Christmas Carols. "Embracing the magic of Christmas means playing Christmas Carols, classical music and jazz. The music is not the star of the show, so we make sure it's in the background."
The joy of giving is a Christmas tradition for the Massyn family. "Christmas is about presents and lots of food. Everyone that can give, gives. I love giving gifts. A favourite I usually get is books. With Christmas and my birthday in March, I am set with reading material for the rest of the year. Getting someone a gift can be tricky, but I've worked out what to do and what not to.
She gave this from the heart, and that is the secret of giving. To give with your heart
Don't buy something like perfume, it's just too personal, unless of course you know exactly what the person likes. Rather buy something you like, and that person can identify that item with you.
The best present I've ever received was from Sorika.
It was picture frames with photos of our children and the dogs. She gave this from the heart, and that is the secret of giving. To give with your heart.
Don't try to give someone something that will be a financial benefit to them, because that is not what Christmas is about, give something thoughtful."
When the roasts and curries are eaten and the presents opened and the family goes home, the new year beckons. "New Year celebrations is about friends. We usually have a few good friends over late morning on New Year's Day and it's a celebration of food… once again. By then the prospect of spending any length of time in the hot kitchen is absolutely daunting.
There is no sit-down meal on New Year's Day.
We nibble straight through to sundown.
We feast on things like 'skilpadjies' homemade bread, kebabs, strips of meat and a dipping sauce.
Again… no peanuts and chips, we try to make an effort."
Pierre offers some advice to survive the festive season:
"Don't leave everything for the last minute. What you can do beforehand… do it, whether it's decorating, desserts or the main meal. Have a pre-planned menu for every day and get your supplies so you don't have to stand in frustrating queues at the grocery store.
And the most important thing is to relax and enjoy it, and allow your guests to enjoy the experience with you, even if that means having to dust off an old family game just to lighten the mood. Christmas is a time to be grateful for everything you are blessed with.
During the year, people don't have time to have delicious meals and to take time to prepare something special. This is why Christmas is so important. It's a time for family and friends to take a break form the pressure of everyday life and celebrate the conclusion of another year.
Feasting on delicacies and catching up. Often families don't see each other during the year. So why not celebrate love, family and life."
Pierre's favourite salad and snack that will be on his table this season
Tomato bites:
This is such an easy recipe and best of all, you can add ingredients to suit your mood. Use one roll of puff pastry, cut it into bite-sized squares. Place the squares on a paper-lined baking sheet. Sprinkle the squares with gouda cheese. Put a freshly-cut tomato ring on top. You can add olives, red or green pepper and feta cheese. Sprinkle with salt and pepper. Then bake until golden brown in a 180 degree oven for around 14 to 18 minutes.
You can also prepare your tomato bites beforehand.
Chill the uncooked squares on the paper in the baking sheet until firm. Once they are firm, you can transfer them into a freezer-safe container and bake them right before serving.
Roquefort pear salad :
Ingredients
* head leaf lettuce, torn into bite-size pieces * 3 pears – peeled, cored and chopped * 5 ounces Roquefort cheese, crumbled * 1 avocado – peeled, pitted, and diced * 1/2 cup thinly sliced green onions * 1/4 cup white sugar * 1/2 cup pecans * 1/3 cup olive oil * 3 tablespoons red wine vinegar * 1 1/2 teaspoons white sugar * 1 1/2 teaspoons prepared mustard * 1 clove garlic, chopped * 1/2 teaspoon salt * fresh ground black pepper to taste
Method
In a skillet over medium heat, stir 1/4 cup of sugar together with the pecans. Continue stirring gently until sugar has melted and caramelized the pecans. Carefully transfer nuts onto waxed paper.
Allow to cool, and break into pieces.
For the dressing, blend oil, vinegar, 1 1/2 teaspoons sugar, mustard, chopped garlic, salt, and pepper.
In a large serving bowl, layer lettuce, pears, blue cheese, avocado, and green onions. Pour dressing over salad, sprinkle with pecans, and serve.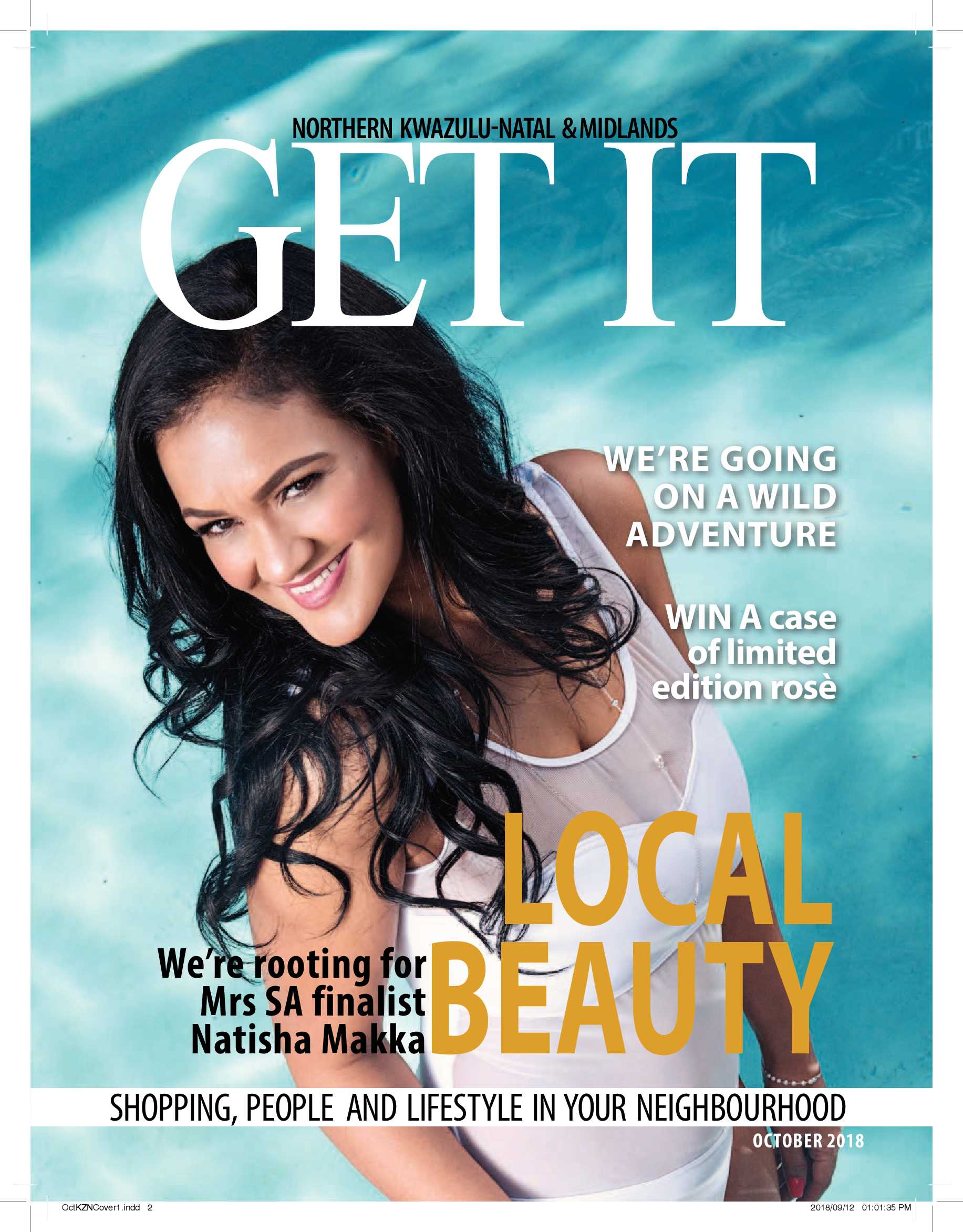 You could win a Cadbury Dairy Milk hamper!
Who doesn't love Peter Rabbit? Who doesn't love Cadbury Dairy Milk? Combine the two … and you've got our favourite Easter treat ever!
Win with Toeka se Mieliepap
Enjoy a healthy spin on a loved staple
Win a tipsy bar tending course
Stand a chance of winning an amazing full set of SVR Sun Secure
Summer days + total protection = safe fun in the sun
Stand a chance of winning an amazing voucher with Battery Centre
Top five battery myths debunked
Win your copy of 'Gister se oues'
Dance to the old tunes
Win with Royco
Enter this amazing competition to stand a chance of winning a handy Royco hamper
is a national brand of premium free magazines available in centres across the country.
to see other Get It magazines in the network.