Through my lens
There is magic in photography, capturing a moment in time. It's the way in which we record history and preserve our special memories. A photographer is at the core of this and when it comes to capturing memories, Tanya Grovè is a name that will pop up in the hearts of many Ladysmith residents when they look back at their memories." Photography is romantic, but like with every great romance, there is a lot of reality behind it."
I get couples with such great chemistry and so much love for each other and that makes my job easy
Being a photographer comes with its challenges. Being a great photographer is knowing how to overcome these challenges and to make them work in your favour. "One of the greatest challenges for a photographer is lighting. Many times you're unable to shoot in ideal light situations due to time constraints or the nature of the venue. Luckily, with light manipulation and using artificial light sources, it is possible to turn bad light into something that is more usable. The business aspect of photography is also challenging, because we love our work so much it's sometimes difficult to say no to special requests."
This certainly does not mean that the mystery and excitement of photography ever really wears off for the photographer. "I still get butterflies before every wedding. It's such a big responsibility to capture a person's special day and you want to give the couple the very best, as they have worked hard to put their day together and photos are all they really have left at the end. Even with all that stress, once I start with a wedding, I become calm and focused on what I need to do and then I just move through the schedule. The trick is to listen for laughter or tears, to capture those special candid moments. It's sometimes necessary to scan the crowd to find some special reactions. I have constant focus on the couple to ensure that I catch special glances or moments between them."
It's easy to understand that even though artistic flair is a necessity for a photographer, inspiration is the air they breathe. "I get inspired by the work of other photographers whom I follow and interact with. There is always something I can learn from them and most are willing to share knowledge and help out. My couples also inspire me; I get couples with such great chemistry and so much love for each other and that makes my job easy."
She has built so many memories in Ladysmith and this is where she met the love of her life, Harold.
"The best thing about my husband is that he genuinely cares about others and he is considerate toward others. I also have to admire his ambition and work ethic. I love the fact that he always has a compliment for me, especially those days when I don't feel particularly good about myself."
2017 was a big year for them, as work opportunities saw them uprooting to live in Bloemfontein.
"We moved to Bloemfontein just over a year ago. We didn't choose to move here, it chose us. My husband got a career opportunity and it was the best decision for us. When we moved, my husband initially moved alone, as I didn't have a job there yet. The scariest thing was the uncertainty of when I would get to permanently join him, since I had to keep working in Ladysmith until I found something in Bloemfontein. Luckily it didn't take long and by mid-February I moved permanently."
Moving on is a simple thing, but what it leaves behind is sometimes hard. "I miss my parents most and all the friends we had in Ladysmith. It also took some getting used to not having the Drakensberg and the beach close anymore."
You need to be as much a business person as a creative force
It's a whole new chapter for the Grovè family, as they will be welcoming their first child soon. "I've had a wonderful pregnancy thus far without complications and a perfectly healthy baby. Even though pregnancy is tough and it does take a toll on your body, I feel blessed to be able to bring our son into the world soon and I'm thankful that God decided to give us this gift."
For now, she has decided to take a break from photography to focus on her growing family. "I haven't been pursuing photography yet. I have decided to focus on my pregnancy and the baby and I will get back into photography when he is a couple of months old. I have been itching to get back into it, but I have prioritised my family for now. I'm not done working by a long shot though." Photography is a very competitive industry, but with experience and a willingness to take advice, there is always room for unique expression. "Photography is one of those industries where the better you get, the more you realise how much you still have to learn and how much you still need to work on. It is important to ask for advice and critique from more accomplished photographers and really listen to their responses. They have a wealth of knowledge to share. It's not an easy industry by a long shot, so my advice to up and coming photographers is to prepare for hard work. You need to be as much a business person as a creative force." This former Ladysmith woman believes in dedication and pouring her soul into everything she does.
"I believe that what you put in is what you get out in every aspect of life and this has always been true. Hard work pays off and so does kindness toward others."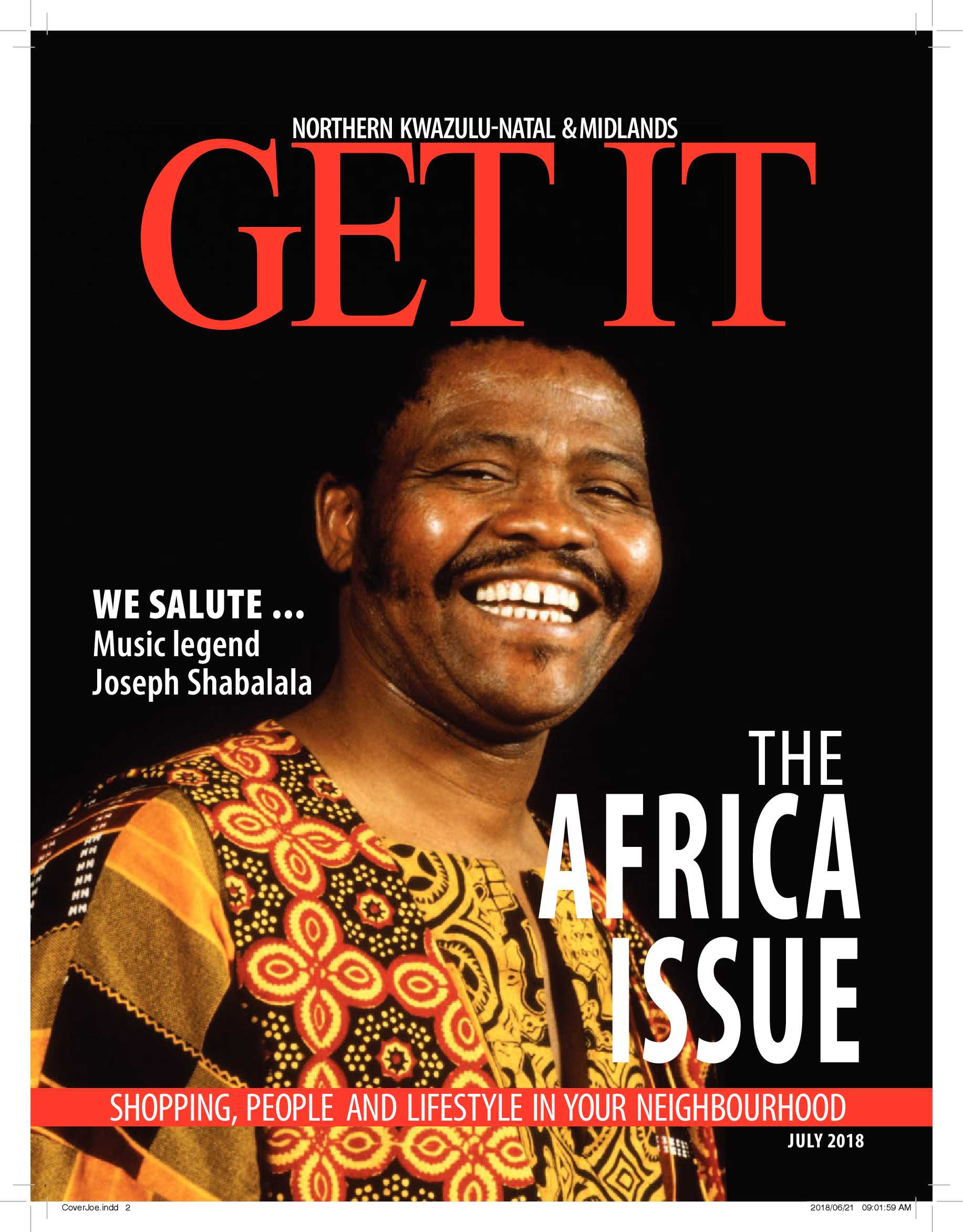 You could win a Cadbury Dairy Milk hamper!
Who doesn't love Peter Rabbit? Who doesn't love Cadbury Dairy Milk? Combine the two … and you've got our favourite Easter treat ever!
Win with Toeka se Mieliepap
Enjoy a healthy spin on a loved staple
Win a tipsy bar tending course
Stand a chance of winning an amazing full set of SVR Sun Secure
Summer days + total protection = safe fun in the sun
Stand a chance of winning an amazing voucher with Battery Centre
Top five battery myths debunked
Win your copy of 'Gister se oues'
Dance to the old tunes
Win with Royco
Enter this amazing competition to stand a chance of winning a handy Royco hamper
is a national brand of premium free magazines available in centres across the country.
to see other Get It magazines in the network.