Loving beauty
Just outside Newcastle, on a beautiful guest farm, lives an extraordinarily talented glass artist by the name of Lee Shaw. Her glass studio is also her home, with breathtaking views and peaceful tranquillity. When a breeze sweeps across the deck, the soft sound of glass chimes tinkling fills the air. Some of her artwork is tastefully placed outside, where beams of sunlight dance on the chandeliers, pots and candle-holders. She surrounds herself with tranquil bohemian beauty. "I love the outdoors; we spend most of our time on our deck, entertaining our friends and family with lovely dinners or just reading a good book.
I'm inspired by colour and love to be surrounded by beautiful candles and all things pretty and colourful. I have done quite a bit of travelling
Lee is artistic, down to earth and has a love for natural beauty. Her personality shines through in her artwork. "I'm inspired by colour and love to be surrounded by beautiful candles and all things pretty and colourful. I have done quite a bit of travelling. My girlfriends and I have travelled to India, Morocco and Dubai and we always have tremendous fun. Wherever I go, I always collect colourful beads and lanterns and whatever else one can find in the wonderful markets. I once had to find space for 6 lanterns to bring home …They always know to leave some space in their luggage for me to fit all my treasures in. Some of my most treasured memories are of my husband Reay and I sailing around the Greek Isles with family on my late brother's yacht. That is something I would love to do again. Another magical place to visit for us is definitely Swaziland. We've been going several times a year for the past 35 years. The last time we went for a visit was in April for my 64th birthday. It's an amazing place filled with talented, artistic people. I always make time for a visit to the glass and candle factories. While the men play golf, the ladies go to explore and once we've done all our exploring, we have relaxing spa treatments followed by cocktails on the patio surrounded by magnificent mountains… Swaziland is absolute bliss!"
I'm happy with what we have and we have a beautiful life here
Lee's life was not always filled with art and beauty though. She was in the media for many years. "I worked at the Newcastle Advertiser in advertising, which I thoroughly enjoyed. In 1996, I decided to leave work and explore a different type of lifestyle."
Lee is originally a Maritzburg girl. "I will always have a soft spot for the Maritzburg area. I grew up there; I was at boarding school as a child and I enjoyed every moment of it. I always try to keep in contact with the people I've met in my life. Some people might have no interest in reconnecting with school friends, but I enjoy it and love to keep in contact. Growing up, my mother was a model. I did some modelling with her between the ages of 11 and 17, but I'm passed all that now. One thing is for sure, I never thought I would end up living on a farm in Newcastle. But I'm happy with what we have and we have a beautiful life here. If I could choose to live anywhere else in the world, I would choose the Midlands in KwaZulu-Natal. I will never leave South Africa, as my heart is here. We have beautiful children and grandchildren. Some are abroad, but to me, nothing can compare to the beauty and the wonderful weather right here. At night, the heavens light up with millions of stars and the misty mornings we have is what life is all about. We have a large family and nothing is quite as special as having them all here. We don't often dine out, as I prefer to sit on my deck with a glass of wine and a home-cooked meal or braai at the end of the day enjoying our view.
If I could, I would redecorate our home every day
A few years ago, she went out looking for a chandelier, but nothing she found suited her style. "This is how I got involved in glass art, I love colours and I just couldn't find a colourful chandelier anywhere." I went online and learnt about the endless possibilities of glass art. I decided that if I couldn't find what I was looking for, I would just make it myself. Reay bought me a kiln and from there, I could really get my creativity going. I always find it so exciting to see what the kiln turns out. The colours, the shapes, the disasters, you just never know what you're going to get. I love the whole process, cut the glass to the shapes I want, then to colour, fire, drill and hang. It's so rewarding!"
She has a passion for decorating and putting her flamboyant personality into everything she does. "If I could, I would redecorate our home every day. The only thing that stops me is Reay's television; I'm not allowed to touch it! He loves everything to do with sport. He is also an avid golfer. I used to play some golf myself and most of the children are avid golfers and enjoy family golf on our 9-hole golf course that my husband Reay built. I think it's important to find something you are passionate about, something you can enjoy, either by yourself or with others. We have so many opportunities to find joy in life, all we have to do is reach out and take it."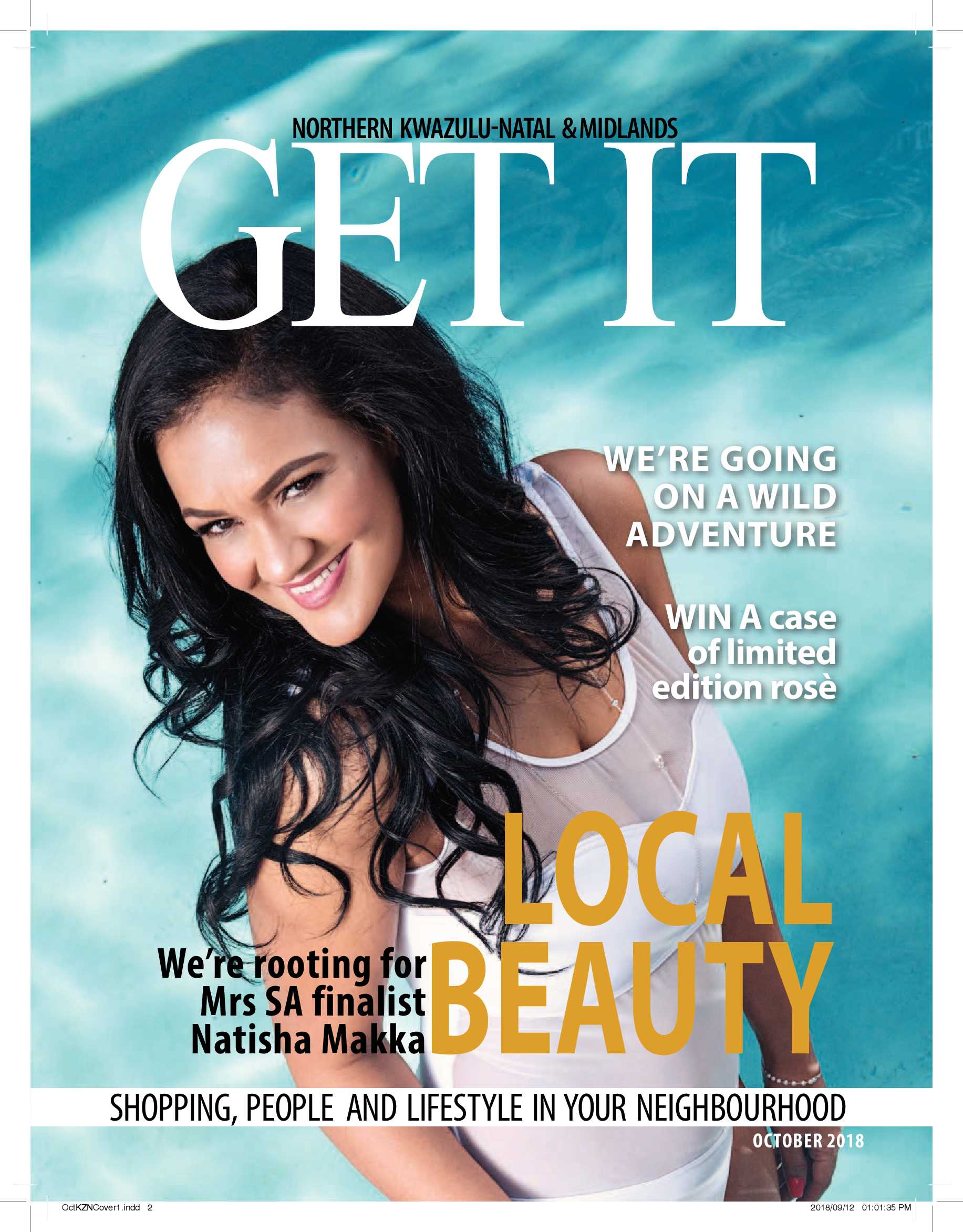 You could win a Cadbury Dairy Milk hamper!
Who doesn't love Peter Rabbit? Who doesn't love Cadbury Dairy Milk? Combine the two … and you've got our favourite Easter treat ever!
Win with Toeka se Mieliepap
Enjoy a healthy spin on a loved staple
Win a tipsy bar tending course
Stand a chance of winning an amazing full set of SVR Sun Secure
Summer days + total protection = safe fun in the sun
Stand a chance of winning an amazing voucher with Battery Centre
Top five battery myths debunked
Win your copy of 'Gister se oues'
Dance to the old tunes
Win with Royco
Enter this amazing competition to stand a chance of winning a handy Royco hamper
is a national brand of premium free magazines available in centres across the country.
to see other Get It magazines in the network.