The road to Tommy Taylor Mrs South Africa
"I want young girls and women in and around our nation to keep breaking barriers and challenge the status quo." Ladysmith's Natisha Makka has achieved much in the modelling world. She is a contestant for the 2018 Tammy Taylor Mrs South Africa competition and she intends on making the best of her journey to the crowning in November.
This gorgeous mother of four grew up in Limit Hill, which is on the outskirts of Ladysmith. "In those days, children were free to play outside, climb trees and get up to good clean mischief. My siblings and I certainly had lots of fun in the streets of Limit Hill.
We were a strong community and there was never any lack of playmates. Ladysmith will always have a special place in my heart. It's part of who I am because it was a town where I was everybody's daughter. Every country has a beautiful village that raises strong women. Ladysmith is my village and still is today. I was raised in a very close-knit family. We have been through many trying times, but we have always stood together. Their ability to love unconditionally inspires me. For as long as I can remember, my parents have always helped people, whether it was family or strangers. The community always knew they could count on my folks. Especially my dad, who was a councillor in Ladysmith. He played a pivotal role in the housing development programme for the people in the community, as well as the infrastructure of Limit Hill. He was involved in the building of the community hall amongst other things."

Modelling was not something she pursued, it appeared on her path purely by coincidence.
"My first modelling experience was at my mom's work. She worked for OK Bazaars and back then, they still had a retail clothing division.
She had sliding fashion shows to promote the clothing section and as a family, we always support each other. My mother asked me to take part and I gladly accepted. I will never forget… I decided I wasn't going to wear my glasses for the show. I had to look down at my feet the entire time because I couldn't see properly!
But I was proud of myself, I did it! My first pageant /competition was at Limit Hill Primary School, where I also won my first competition; Miss Spring Queen. I was between 13 and 14 at the time. My first boss, Marcus Venter, saw potential in me and used me for his hair shows. He also became my official sponsor for the Lions Miss Ladysmith pageants."
Northern KZN will always be a special place for her; so many people played a part in raising her up. "When I took part in the Lions Miss Ladysmith Pageant, I was blessed to have Christine Harburn pour her time and energy into developing me and other contestants. She owned Mannequin Models back then.
 I met some amazing people who have impacted my life in the most beautiful way
She eventually presented me the opportunity of taking over her studio when she relocated to Newcastle. Her investment in my life's journey will always be very dear to me." During those early days of modelling, she learnt not to compare herself to other models because everyone is unique and it's that uniqueness that defines you as an individual.
Each pageant offers a learning experience for the model. "I've participated in so many different competitions, including Miss Teen South Africa and Miss South Africa. I've gained so much from each one. More than that, I met some amazing people who have impacted my life in the most beautiful way. I was exposed to so many different people and with that, I was able to always go back to the drawing board so to speak and evaluate by maintaining my belief system and remaining true to myself at all times."
The Tammy Taylor Mrs South Africa annual fund-raising ball earlier this year gave Natisha another opportunity to show off her beauty and talents. "The ball took place late in June at Emperors Palace and it was in aid of Women4Women.
For the occasion, I chose the colour gold, which is my favourite colour. My dress was created by Eli Ball Made In Africa and the rest of my look was his creative edge in full form. We had rehearsals with the production crew after pre-judging.
Pre-judging consisted of swimwear judging, as well as an interview with the designated panel of judges. I set my own table, together with my family. I also packed the goody bags for my guests, so that allowed me an hour to get ready. Thankfully this journey has prepared me to be quick and sharp."
My mom, Elaine Norris, inspires me because her love and sincerity of heart towards people has greatly impacted my life. Her tenacious spirit taught me the same
In a world of many inspiring women, two of them have captured Natisha's admiration. "My mom, Elaine Norris, inspires me because her love and sincerity of heart towards people has greatly impacted my life. Her tenacious spirit taught me the same and in every battle and every trial I've faced and conquered, I've grown. Another inspiring woman is Joani Johnson.
She is a powerful South African businesswoman who beautifully portrays an unassuming disposition. She is a woman who has faced many difficulties and struggles and used those trials to channel her strengths by evolving into one of the most powerful and recognised businesswomen in our country.
Too often we look to famous celebrity role models from overseas and we don't celebrate our own. Today I can stand tall and proud, saluting these formidable women!"
When it comes to letting her hair down, she loves nothing more than to spend time with her family. "My husband, Dale, is an associate pastor at our local church in Durban and he is in full-time ministry. We have been married for 17 years. What is beautiful about our meeting back then was that we knew we wanted to get married even before we had our first date. He is an exceptional husband and father. My ideal weekend away would include my entire family at Alpine Heath or Cathedral Peak. Going for walks with all the children, horse riding or braaing, just because it means being together with the people I love. "
Being a model means staying in shape. "I love food and I also have a bit of a sweet tooth. Balance is important though, so I do indulge every now and again with a chocolate or cake.
I believe that we are here to enjoy life, not endure it. I do EMS Training once a week because it's equivalent to five gym sessions. I am generally very active with my kids and keeping busy with day-to-day activities helps me keep in shape."
As a career woman, she is involved with image consulting and women empowerment. "In my professional life, there is much I want to still do. In the future, I see myself occupying new territory and opening doors for others as I do that. I'm excited for what's ahead because since I've embarked on this Tammy Taylor Mrs SA journey, my life hasn't been the same."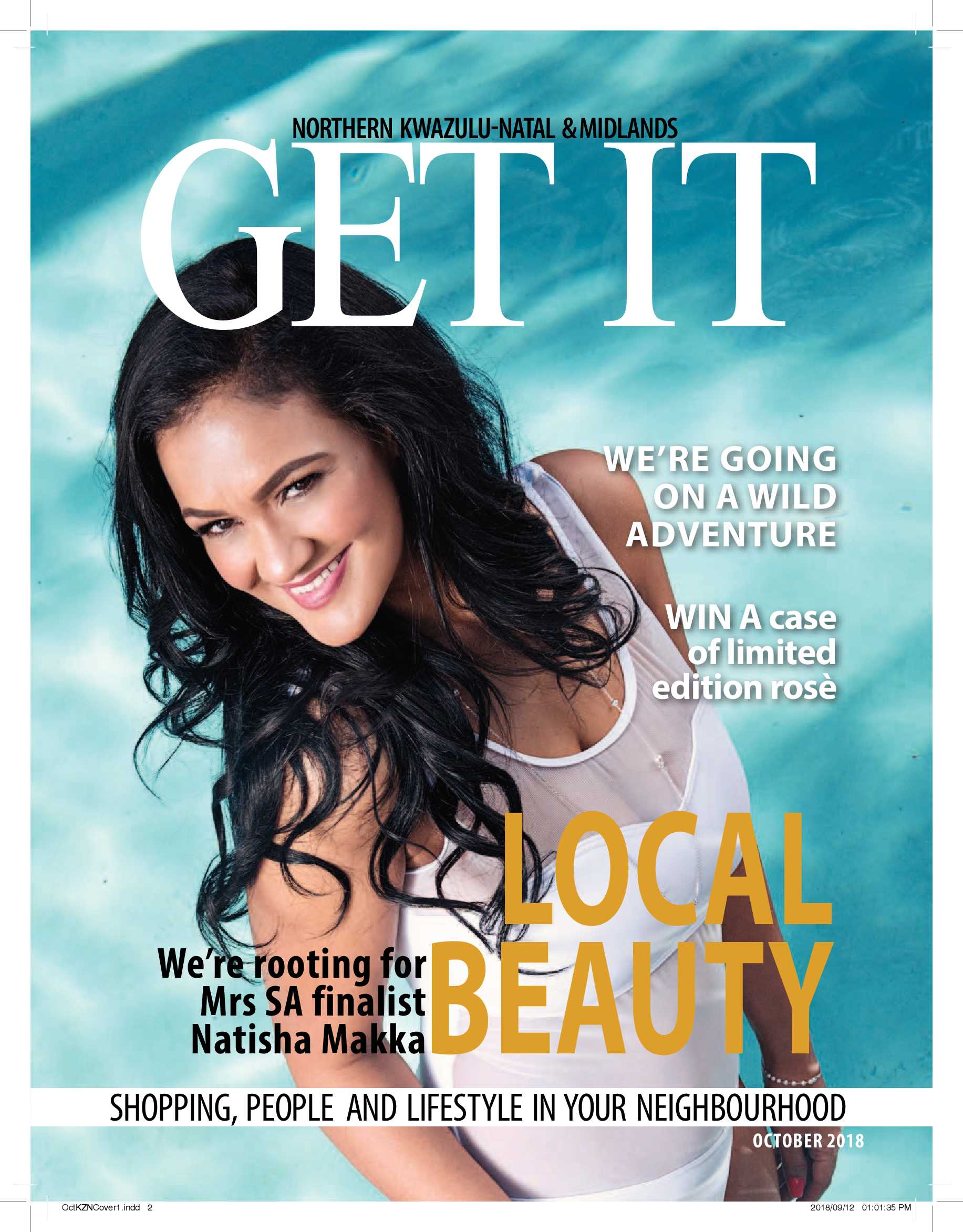 You could win a Cadbury Dairy Milk hamper!
Who doesn't love Peter Rabbit? Who doesn't love Cadbury Dairy Milk? Combine the two … and you've got our favourite Easter treat ever!
Win with Toeka se Mieliepap
Enjoy a healthy spin on a loved staple
Win a tipsy bar tending course
Stand a chance of winning an amazing full set of SVR Sun Secure
Summer days + total protection = safe fun in the sun
Stand a chance of winning an amazing voucher with Battery Centre
Top five battery myths debunked
Win your copy of 'Gister se oues'
Dance to the old tunes
Win with Royco
Enter this amazing competition to stand a chance of winning a handy Royco hamper
is a national brand of premium free magazines available in centres across the country.
to see other Get It magazines in the network.